Create a Facebook Fundraiser to support the Hyper IgM Foundation
-Rallying your friends, family, and community around our cause is a great way to show your support and to have a real impact on the families we serve. Raising funds for the Foundation will help support our mission to improve the treatment, quality of life, and the long term outlook for children and adults living with Hyper IgM through research, support, education, and advocacy.
It's easy – here's how:
Visit our Facebook fundraisers page.
Under "Create a Fundraiser", click "Raise Money"
In the "Let's start with the basics" form, fill in the amount of money you'd like to raise (choose an amount that will inspire your friends and family donate and make a real difference) and the end date for your fundraiser.
 Click Next. On the next form, give your fundraiser a title (e.g. Hannah's birthday fundraiser to support the Hyper IgM foundation)
On the same page, add a short description of why you are raising funds for the Hyper IgM Foundation. Make it personal. Tell your audience about your connection to the cause.  Feel free to use any language from our website

 and our mission statement: 

The Hyper IgM Foundation's mission is to improve the treatment, quality of life, and the long term outlook for children and adults living with Hyper IgM through research, support, education, and advocacy

Click next. In the final window you are able to choose and position a custom photo for your fundraiser page.
Click "Create".
The

 most important step in creating the fundraiser is inviting your friends to donate. Click on "Invite your friends". This will open your friends list with check-boxes next to each. Facebook will allow you only to invite 499 friends at a time. Going back and inviting more over the course of the day will allow you to invite all your contacts. Moreover, you should ask your friends directly to click on the "Invite Friends" button to invite their friends to donate and spread the word. 

You will also be prompted to upload a contact file, or link your email service to add more contacts. This is a good option if most of your contacts are not on Facebook.

Finally, contact your friends directly and ask them to donate!
Tips for Success
Whether it is your first time running a fundraiser for a cause or your twentieth, it is always good to follow these steps to ensure your success:
Before spreading the word and inviting your friends, get at least one donation on your page. This can be your own personal donation to show your support, or a close friend or family member that is willing to help. Having at least one donation on the page will help jump-start others to donate when they get invited

Tell a story – People get asked all the time for donations for causes. Telling your own story and why you are fundraising for our specific cause is key to getting your message heard and allowing your effort to stand out.

Don't be afraid to ask – asking for the donation is sometimes the hardest part, but it is a key aspect of the fundraising effort. Asking for a donation, big or small, goes a long way. Remember, everyone that donates to your fundraiser does so out of the goodness of their hearts. They may have been affected directly by this disease, or know someone that has been. Or they may have been affected by another unrelated disease. In general, people that give to charities tend to have had a plan to give to a charity anyway, and your direct ask, your "call to action" that came across their feed or in their inbox, has prompted them to give to your cause.

Thank you, Thank you and Thank you! – The most important part of a fundraiser is to acknowledge your donor and supporters. Do your best to directly thank everyone that gives to your fundraiser either on Facebook, or with a direct message or email. If a friend or family member gives an especially larger donation, pick up the phone and call them to show your gratitude.

Remember, Facebook sends a gift acknowledgement by email to the donor, but the Foundation does not get most donors' contact information. Thanking your donors goes a long way to show that you and The Foundation appreciate their support.

Sharing – Thank your friends that have shared your fundraiser with a comment or message. And as your friends and family to share the fundraiser on their pages and with their contacts. The more people that see your fundraiser the more successful it will be.
New!  Live Video Fundraisers
More and more people are going live on Facebook to share their experiences. That's because live video helps friends and family feel like they're in the moment.
Now you can add your fundraiser to a live video.  If you are a  supporter who have created a fundraiser for the Hyper IgM Foundation, you  can now attach that fundraiser to a live video. Then when you go live, viewers can contribute to the fundraiser during the live video. This is a great way to take advantage of the growing video engagement on Facebook.
You can add a fundraiser to your live video with your personal profile on Android and iOS.
New! Posts with Donate Buttons
You can now easily raise money for the Hyper IgM Foundation by adding a donate button to your posts.  When creating a post, you will have access to all of Facebook's rich storytelling tools (such as tagging friends, checking into locations, sharing feelings / activities etc).  Adding a donate button is simple (follow the steps below or learn more here):
Click

 

Feeling/Activity
Scroll down to click

 

Supporting
Select a nonprofit
Click Post
Click Add Button to confirm you want to add the donate button to your post
People can engage with the post by liking it or sharing it with their friends and in turn promote visibility and awareness of your cause.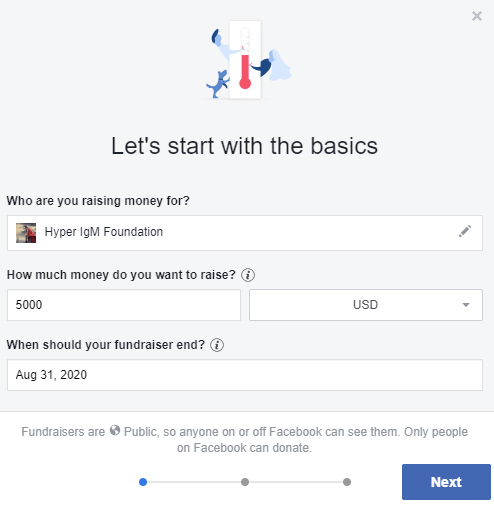 Setting up a Facebook fundraiser takes minutes, and allows your friends and family to take part in the effort to find a cure for Hyper IgM