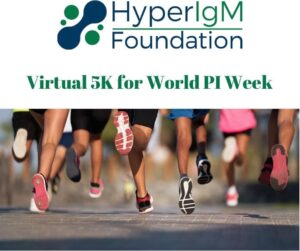 It is World PI Week where communities around the globe are coming together to raise awareness of Primary Immunodeficiencies and show their support for the foundations that are working tirelessly to improve the quality of life of patients in our communities.
It is not too late to join the Virtual 5K we are hosting this week (details below). However, if you cannot join the run, consider supporting our World PI Week Fundraiser.  
Together with our donors, and our generous sponsors, Horizon Therapeutics and Blue Jay Advisory we have raised over $6,500 so far. Consider joining the campaign by donating or signing up to run your own Fundraiser for World PI Week! 
Join us in Honor of World PI Week – Run, Walk, or Roll in Support of a Cure for Hyper IgM Syndrome! Join our broader Hyper IgM community and make a difference in the lives of those diagnosed with this rare genetic disease.
n honor of National Primary Immunodeficiency Month and World PI Week (April 22nd – April 29th), we are hosting our Hyper IgM Foundation Virtual 5K!
Help Us Find A Cure For Hyper IgM Syndrome and raise awareness for World Primary Immunodeficiency Week!
Register today, and participate from anywhere in the world!
You will have a full week to complete your 5K, using any tracker you currently use (Runkeeper, Strava, or any other). In the end, post a photo of your run along with our #HyperIgM #HyperIgM5k #WorldPIWeek hashtags.
All participants that complete their Virtual 5K run/walk/roll will have bragging rights, and will receive a Hyper IgM Foundation Cooling Gaiter with Filter that can be used as a mask or to keep you warm during your runs.
HOW IT WORKS:
Our 5k will be virtual. You can run (or walk) it from wherever you'd like, be it a park, a trail or even a treadmill! You can complete it at your own pace and time using your favorite running app. Plus, there will be prizes for participants with the most sponsors. Post your results anytime before April 30th and receive a certificate to share on social media!
We encourage all our runners to participate in our Virtual 5K Run/Walk/Roll fundraising campaign and recruit friends and family to help sponsor your run and raise a minimum of $250 for the Hyper IgM Foundation. Details to follow registration.
Special thank you to our sponsors for supporting our Virtual 5K!
Platinum Sponsor – Horizon Therapeutics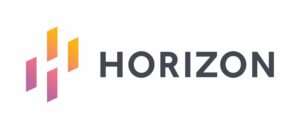 Gold Sponsor – Blue Jay Advisory