The Hyper IgM Foundation Blog 
My Break for Freedom – A Road Trip for a Cure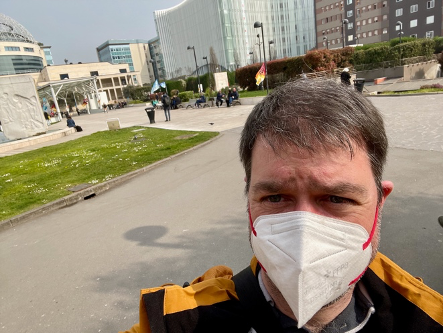 The following blog post is written by Chris Sheasby, an adult X-Linked Hyper IgM Patient living in the UK, about his experience volunteering to donate t-cells to research conducted in Milan, Italy, on gene editing for Hyper IgM Syndrome.
My Break for Freedom
I am in good health and, by and large, I have tried (mostly successfully) to forget that I have X-Linked Hyper IgM Syndrome. Hyper IgM Syndrome is a very rare, one-in-a-million, and life-threatening genetic mutation that severely compromises the immune system and the body's ability to produce antibodies or proper responses to pathogens such as bacteria and viruses. Because I cannot produce antibodies on my own, I have fortnightly infusions of donated immunoglobulin (antibodies), take my medication when I am advised to, avoid tap water and so far, I have been fine.
The COVID-19 pandemic changed all that.  You can't push something to the back of your mind when it is pushed right back to front and center every day.  I have two boys, so strict shielding is not an option – which means walking a tightrope of constantly assessing how to avoid "unnecessary risks" as the clinicians put it (whatever that means?).
 It has made me realize that you can't take good health for granted. None of us can, but especially if you have a quirky condition like Hyper IgM Syndrome.  And it has also forced me to reconcile with the uncertainty of when and how I might switch from this stable track I am on right now, to the more complex track that most people my age with Hyper IgM Syndrome would recognize. With a median life expectancy of 25 years, I have been beating the odds for many years now, increasingly worrying about when my disease progression might change.
So, when Akiva Zablocki, the president of the Hyper IgM Foundation, mentioned the gene therapy research for "oldies" like me at the San Raffaele Hospital in Milan, I was very keen to help in any way I could. He put me in touch with Dr. Canarutto and Dr. Ferrua and I agreed with them last Summer that I would donate some peripheral blood at my local Immunology clinic in the UK.  However, sorting out the customs paperwork post-Brexit proved challenging.  So, I suggested that, if the paperwork couldn't be completed by the Spring, I would come to the Milan clinic in person.  Naively thinking that the pandemic must be better by then, right?
Wrong – March 2022 came with Omicron and record high levels in daily cases.  At the same time, the UK had unlocked, and Europe was following suit.  I decided that, for me, flying to Milan felt like an "unnecessary risk".  But if I could drive, then I could better control the risk of contact with unknown people.  I live near Cambridge, so it would be at least a 15-hour drive to Milan.  But after two years of being locked up, the thought of a road trip really appealed to me.  And thankfully, a good friend of mine, Richard, agreed to share the driving.
So, with a car full of hand gel and FFP3 masks, that is exactly what we did.  It was my break for freedom after two years of a fixed routine, pinned down by the pandemic.  I was reaching out for a feeling of space and freedom, and to an extent the feeling of a possible future in the hands of gene therapy and the work of the
Milan group.
I got this in spades.  Beautiful French villages, gorgeous Alpine vistas and Swiss lakes, iconic mountain passes, and the bustle and hubbub of cosmopolitan Milan.  In short, a feeling of complete freedom.  A full battery recharge after too long feeling drained and depleted.
But more importantly, I got to meet Dr Canarutto and Dr Ferrua in person, ask my battery of questions and contribute in my small way to their vital gene therapy research.  I was so excited that I decided to take my first-ever selfie to mark the occasion. Which turns out to be a lot harder than my teenage niece makes it look.
Thank you to Akiva for introducing me to the Milan group.  And thank you to Dr. Canarutto and Dr. Ferrua for making me so welcome and taking good care of me during my visit to your hospital.  I would also like to reserve a special thank you to my good friend Richard for helping me get there in the first place – somehow, we managed to live in each other's pockets for a week without a single argument.
I would also like to thank anyone who has already been involved in this research or is thinking of contributing in the future.  Hyper IgM Syndrome is such a rare condition – Drs. Canarutto and Ferrua have had to draw on the help of volunteers from far and wide.  But they still need many more volunteers to progress through the final stages of their research so that hopefully, before long, they can commence their clinical trials.
To help with the travel costs, the Hyper IgM Foundation is offering a bursary for flights and accommodation to Milan.  For anyone giving this some thought, I can whole heartily recommend you making this trip.  Although in hindsight, I would try avoiding driving to the San Raffaele Hospital in the Milan rush hour – by the time I got there, my blood pressure was sky high – it was probably the riskiest thing I did throughout my whole trip!
The Hyper IgM Foundation is working to drive research forward into new treatments for X-Linked Hyper IgM Syndrome. In order to support researchers in Milan, Italy, working on cutting-edge new T cells gene editing, they are looking for Adult X-HIGM patients to volunteer to travel to Milan to donate blood and lymphocytes for research. The Hyper IgM Foundation will cover all costs associated with travel and lodging in Milan. Please contact [email protected] for more information.