The Hyper IgM Foundation Blog 
Hyper IgM researcher receives $4.9 million award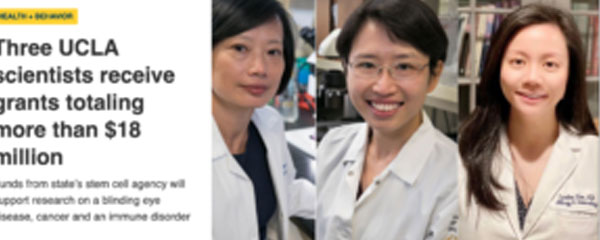 Congratulations to Dr. Caroline Kuo from UCLA, and BIG news for Hyper IgM!! Dr. Kuo just received a $4.9 million award from the California Institute for Regenerative Medicine (CIRM) in support of her development of a stem cell gene therapy for X-linked Hyper IgM, a life-threatening immune deficiency.
The Hyper IgM Foundation has been supporting Dr. Kuo's research over the last few years through seed grants, by connecting her to our very rare patients who are helping to fuel her work, and, most recently, in advocating for her to receive this critical funding. We are thrilled to see her research receive this award.
From the press release on NewsWise: "The syndrome, which is caused by a mutation in the CD40LG gene, results in invasive infections of the liver, gastrointestinal tract and lungs. Currently, the only potential cure is a bone marrow transplant from a matched donor, which carries life-threatening risks and is often less effective for XHIM patients than patients with other forms of immune deficiency. Even with current treatments, only 30% of people with the syndrome live to age 30.
Kuo will evaluate a stem cell gene therapy that corrects the genetic mutation that causes XHIM. After removing blood-forming stem cells from a person with the syndrome, the therapy would use a genetic engineering technique called CRISPR to insert a correct copy of the affected gene into the DNA of the stem cells. The corrected blood-forming stem cells would be infused back into the patient, where they could regenerate a healthy immune system.
She will collaborate with Dr. Donald Kohn, a UCLA distinguished professor of microbiology, immunology and molecular genetics who has successfully treated two other immune deficiencies — bubble baby disease and X-linked chronic granulomatous disease — with a similar therapy."