The Hyper IgM Foundation Blog 
PRESENTATIONS FROM HYPER IGM TRACK AT 2019 IDF NATIONAL CONFERENCE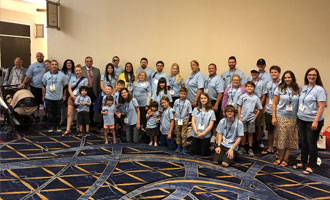 For those of you who might have missed the 2019 IDF Track and the Hyper IgM Track presentations, the IDF has uploaded some of them online. Below are some of the talks we had.
We had a great conference with 45 participants from the Hyper IgM Community. This was by far the largest in-person gathering of Hyper IgM patients in the world. We made a big splash at the IDF Conference, with 1300 attendees, our HIGM blue one-in-a-million shirts stood out and people kept asking us about Hyper IgM Syndrome!
We had had 8 dedicated Hyper IgM track sessions that were planned by the Foundation. See embedded clips for the ones that are online. To view all the available IDF sessions (none Hyper IgM specific check out this link).