The Hyper IgM Foundation Blog 
A RIDE FOR ANDREW – IN SUPPORT OF THE HYPER IGM FOUNDATION – UPDATED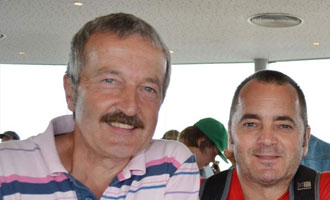 I am embarking with two friends on a cycle trip from Istanbul, Turkey back to the island of Anglesey, North Wales on the 28th March, following a route known as the 'Iron Curtain Trail' that borders the former Soviet countries. We have dubbed the trip the 'Asia to Anglesey' – we will start from the eastern side of the Bosporus – and will cover 5,500km (3,400miles) in around 56 days (ie. April and most of May).
On the way, we will pass through 16 countries, traverse 4 mountain ranges and potentially encounter everything weather-wise on the snow to sun spectrum. I will be blogging my experiences and encounters on an as-near to daily basis as possible, so that everyone who is interested can share our journey.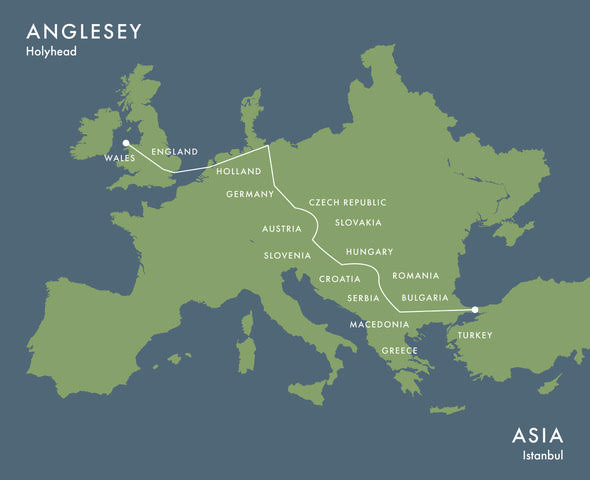 We are all retired now, which gives us the opportunity to pursue an adventure that we've talked about for the last few years, and I'm hoping to raise money for Hyper IgM in memory of my younger brother, Andrew. Andrew – or And, as I've always called him – was and remains a well-known member of the Hyper IgM community. It's probably not often that a younger sibling is your hero, but And's zest for life and ability to shrug off the shackles of seriously-debilitating illness were truly inspiring to all who knew him.
And passed away just over 13 months ago, but there isn't a day when something doesn't happen that reminds me of him – and `I know that goes for the rest of our large family and all his friends and colleagues. And did all he could to help fund research into combatting Hyper IgM syndrome; he would be delighted that this ride is contributing to further research.
So follow the route map and keep up with the blogs – it will be an interesting way to get perspectives on a third of the countries that make up Europe…..and rest assured that every penny/cent raised will go to Hyper IgM, as the trip is being financed entirely by ourselves.
UPDATES:
Click here to see a map of the current location of Roger and his crew!
May 23rd, 2019: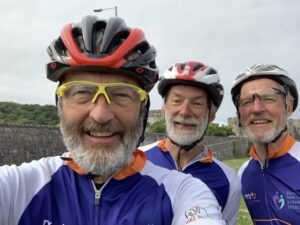 On the last day of our Istanbul to Holyhead bike ride, we met up at St David's Hospice, Llandudno for  breakfast with – and a send-off from – the staff. Radio Cymru, our Welsh language station, was on hand for me to give a live interview on the 8am news programme before we set off towards Conwy and its imposing 13th century Edwardian castle.
A fine morning made the cycle along the North Wales coast more enjoyable, despite the headwind coming from the south-west. The isle of Anglesey, our destination, appeared as we rounded the headland near Penmaenmawr and we were soon in the small city of Bangor.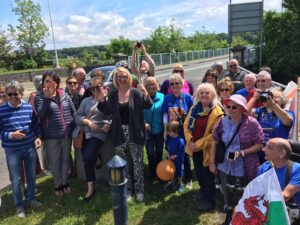 A crowd of friends and supporters had gathered on the Menai suspension bridge, cheering us across the Menai Strait and onto the island. Our tee-shirt ticking ritual, recording our arrival on the island, was this time undertaken by schoolchildren who had been following our journey. This led to us being quizzed about various aspects of our travels, the questions only ending when the school principal decided that it was time to return for the afternoon's lessons!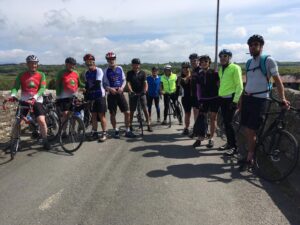 Fourteen cyclists joined us for a very pleasant ride across the island to Holyhead, some 45kms distant, time seeming to fly by as we talked with them about our trip. Spring had truly sprung whilst we were away, the hedgerows being resplendent with a glorious mix of wildflowers.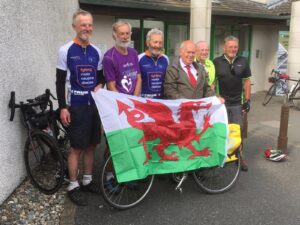 We reached Holyhead just before 5pm, the end of our journey from Istanbul being a reception from supporters at the Stanley Hospital, where a hospice facility is being developed. We were greeted by local politicians, friends and family, with champagne corks popping and much cheering. Our last day had taken us the final 85km to complete our 56 day journey
May 22nd, 2019: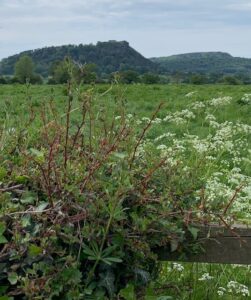 Light rain was falling as we left Crewe, though not enough to either dampen us or our spirits at being so close to home…….although, coming across the village of Aston juxtra Mondrum did lead us to question how close to home we really were!
Reassurance came with the familiar sight of Beaton Castle, sitting on a sandstone outcrop over 100m above the Cheshire Plain, and then our first glimpse of the distant hills of Snowdonia.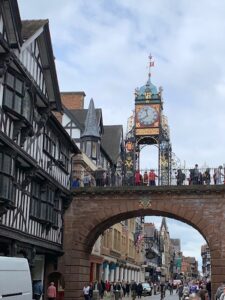 Taking a break in the middle of the Roman city of Chester, we were amused to see and hear a party of schoolchildren, led by a centurion, chanting a Latin marching song as they wove their way around the mcentre.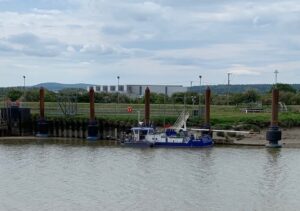 Then it was a ride along the banks of the River Dee, circling above us the modified Airbus plane (known because of its shape as the 'beluga') for carrying wings from their local factory to Toulouse. Later, we passed the wharf where wings too large for air transport are floated on a barge down the river to a waiting ship.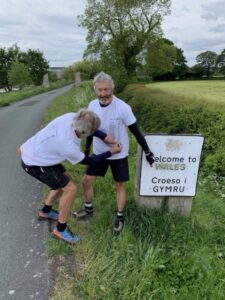 Before encountering the Airbus wharf, we entered Wales and performed our customary tee-shirt ticking exercise before continuing into an increasing headwind. Just outside Flint, I got my fourth puncture of the trip, causing us a little worry as stocks of spare inner tubes were getting low. A passer-by, seeing 'Asia to Anglesey' on our shirts, commented 'only 50 miles to go, lads'.
Reaching the mouth of the Dee at Point of Ayr, we joined the Wales Coastal Path and continued alongside the sea for the remainder of our journey to Llandudno. Leaving our bikes at St David's Hospice, we were collected by car for a night in our own homes, to return the following morning for the final 80km to Holyhead. Our day on familiar terrain, slightly longer than anticipated at 135km, had been very enjoyable.
May 21st, 2019: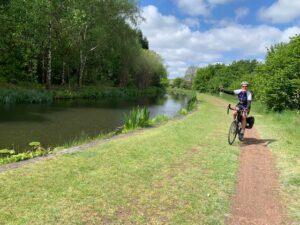 Andy's in-laws, Ali and Millar, produced a delicious calorie-packed breakfast to send us on our latest leg of the journey. Paul was with us for the initial stage through Sutton Park, then we parted company as he headed for Lichfield and we found a wonderful canal towpath taking us northwestwards.
The canal was a haven of bird life, with coots, moorhens, geese, mallard and, at one point, a pair of swans paddling serenely past us with their five cygnets between them.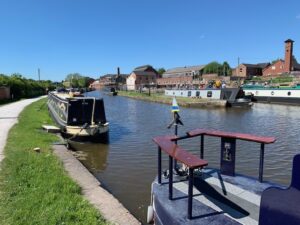 We were hailed by the occasional passing narrow boat before leaving the canal for the glories of Cannock Chase. This former Royal Forest, now the UK's smallest Area of Outstanding Natural Beauty,  had an early reminder of its still significant deer population, as a sign recorded that there had been 117 collisions between them and cars in the last year.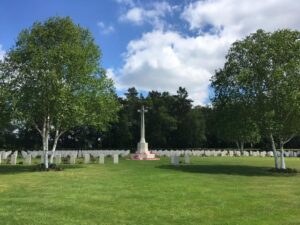 The Chase was dominated by the Pye Green telecommunications tower, providing a link to our Iron Curtain trail journey, as it was one of fourteen originally built (from reinforced concrete) to provide a communications network during the Cold War. Just beyond the tower, we came across a German war cemetery of over 5,000 graves.
Following lunch in tea rooms just below the 230m summit of the Chase, we had further difficulties with the signposting of the national cycle network (we had been sent in a circle in Brownhills earlier). This time, route 5 simply ended in a partially-built housing development, forcing us to cycle along the very busy A34. A local cyclist told us that route 5 had been closed for a year, with no signage either to say this or offer an alternative route.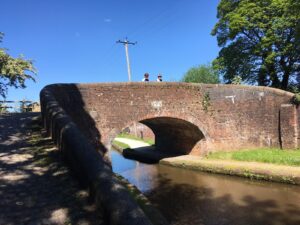 We eventually rejoined route 5 and had a very enjoyable time cycling along the towpath of the Mersey and Trent canal, our enjoyment punctuated only by my third puncture of the trip!
The confusing signposts had eaten badly into our timetable and, over a cup of tea in Stoke-on-Trent, we concluded that we could get no further than Crewe. We had cycled 105km and, having spent the first night of our adventure in Istanbul, we were going to spend the last night in a rather less-exotic railway hub!
May 20th, 2019: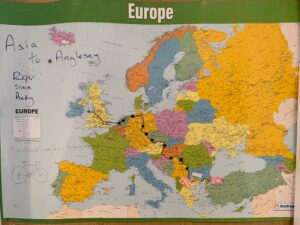 A later start today, as we travelled back to Northampton – where we'd cycled yesterday – by van. First, though, we said goodbye to Andy's family, grandson Fraser's map of our journey a reminder of how far we'd travelled……and how relatively little we had left (about 350km).
The MNDA staff in their Northampton HQ were out in force to meet us; we were made very welcome and given lunch to fuel the afternoon's ride to Sutton Coldfield. By this stage Andy's son-in-law, Paul, had joined us to make a foursome setting off in the warmth of a sunny day.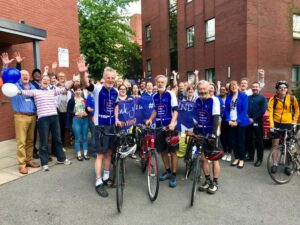 Leaving the urban area behind, we were soon out in the countryside and on progressively quieter roads. We crossed some very busy highways, thankful not to be riding on them, instead finding ourselves amongst canals and country villages.
Given the size of Birmingham, it was a pleasant surprise to get as close as we did within a rural setting. Our final run into Sutton Coldfield was largely on cyclepaths, delivering us to our destination by 7pm. This was the home of Andy's relatives, Ali and Millar, who had a meal waiting for us that proved very welcome after a 95km cycle
May 19th, 2019: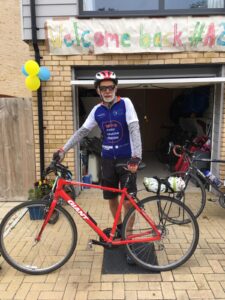 We were royally looked after by Andy's daughter and son-in-law, Rachel and Paul – and have been looking forward to tonight, as we're staying with them again!
Today we cycled to Northampton, as we are going to the MNDA offices there tomorrow and it was sensible to get the mileage done today (we came back today and will return tomorrow by van). Andy was on Paul's hybrid bike that he will now use for the remainder of our ride.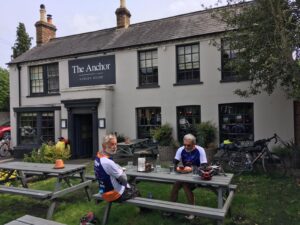 Away from the main roads, the countryside was very attractive and peaceful, small villages with thatched cottages and a rolling landscape.
Our lunchtime stop in one of the many country pubs was almost our undoing, as the service was a little slow and could have made us late for the van collection in Northampton. However, a slightly faster pace around the cyclepaths of Milton Keynes helped, whilst a run along the towpath of the Grand Union Canal was simply blissful.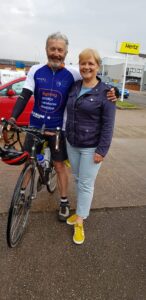 As we pulled into the van centre we were greeted, as expected, by my sister-in-law Donna and her mother, Pauline. Then came the surprise – daughter Carys, her partner Rob and my grandson, Jax, appeared! It was great to see them and I even got to take Jax, who has just started walking, for a little trot around the car park. Carys had made some cakes with bicycle wheel decorations that we enjoyed – and Donna presented us with a box of home made flapjacks and chocolate brownies to sustain us on the last four days. All this – and another 80km covered.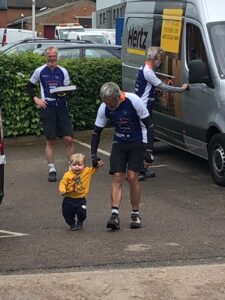 May 18th, 2019: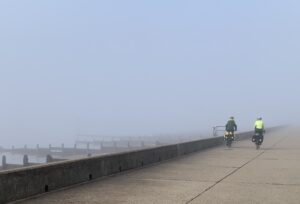 The ride today from Harwich to Hitchin was 137kms, so only 3kms short of our longest distance on the entire trip. We disembarked the Stena Hollandica, our excellent overnight ferry, at 7am and cycled initially in fog along the Sustrans cyclepath 50 that kept us off all except the quietest roads.
Part of the route was along the coast at Dovercourt, eerily silent in the mist,  before we headed inland to Colchester, where the town was just waking up to a sunny Saturday morning.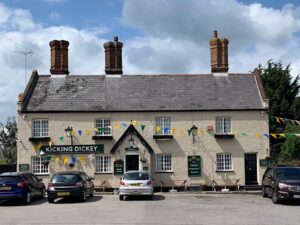 Andy's rear wheel, its rim holed on the outer skin, was holding up well on the sometimes-potholed roads as we made our way along Sustrans route 16. Much of this was along a disused railtrack, so well away from any traffic and reminiscent of our times in The Netherlands.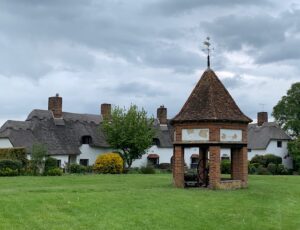 By lunchtime we were in Braintree, where an excellent community cafe provided us with the required number of calories for our onward journey to Bishop's Stortford.
The final leg took us through Hertfordshire's traffic-free lanes and villages with attractive old houses, many with thatched roofs, and pubs of the sort that one would expect to see in such settings. Although the roads were now wet, we avoided the actual rain and, more importantly, Andy's wheel wobble only became more serious as we reached Hitchin. His excited grandchildren, Fraser and Tilly, provided a great welcome after a tiring day!
May 17th, 2019: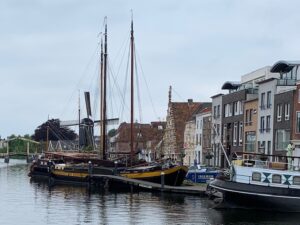 On our way from Lisse to Leiden, we passed through the small town of Sassenheim, where children wearing individually-numbered orange vests were cycling about 200m apart and signalling their intentions very clearly and carefully. The presence at one corner of a person with a clipboard making notes, suggested to us that we were witnessing a cycling proficiency test.
This proved correct, it was the 'vermeersexamen' or traffic test that 12 year olds go through before moving up to senior school, considered essential because almost all will cycle there.
This led to us speculating that the respect shown by Dutch drivers to cyclists is a consequence of them all having been and/or still being cyclists. We need a compulsory 'vermeersexamen' in the UK!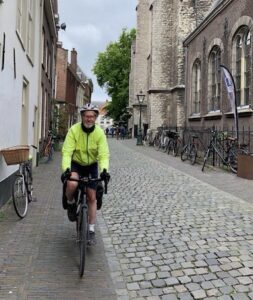 Leiden proved somewhat disappointing after Utrecht, the old central area being quite small and lacking the atmosphere created by extensive narrow, cobbled streets and canals. We nevertheless saw the botanic gardens where the tulip was first introduced to The Netherlands and visited the house where a sixteen-year old Rembrandt was taught to paint. The central railway station had an enormous bike storage system.
We then headed north westwards to the coast, where we picked up the the Dutch North Sea cyclepath, taking us through the massive dune network that protects the land behind from sea flooding. The scale of engineering, undertaken in harmony with nature, and the protection of freshwater aquifers from saltwater intrusion have made The Netherlands the world leader in coastal protection.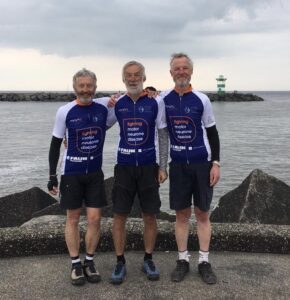 The dunes were also a vast nature reserve, clearly popular with presumably local people, as there were many walkers and cyclists around us.
We finally saw the sea, for the first time since Turkey, when we reached the seaside resort of Scheveningen, a place that seemed like an upmarket Blackpool. We had crossed a continent, duly marked with a photo taken for us by a fisherman.
Once through the resort, we were back in sand dunes for the last 20kms to the Hook of Holland and our ferry to Harwich. Just before we exited the dunes, we spotted a fox in the shrubbery – and then, a few metres further on, a rabbit crossed our path……the first rabbit we had seen since we started from the Bosphorus! Our final stage of the journey before the UK has been of 65km.
May 16th, 2019: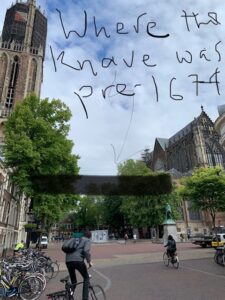 We cycled on a cool Thursday morning into central Utrecht, initially through wooded parks and then, in the more urbanised area, with the company of an increasing number of fellow cyclists.
St. Martin's cathedral was interesting not only for having the largest church tower in The Netherlands, but also because the knave had been destroyed in a 1674 whirlwind, separating for ever the tower and cathedral!
Traversing this archetypal Dutch city, with a network of canals between narrow cobbled streets, was interesting for the wealth of old buildings centrally and the imaginative designs of some houses and houseboats in the suburbs.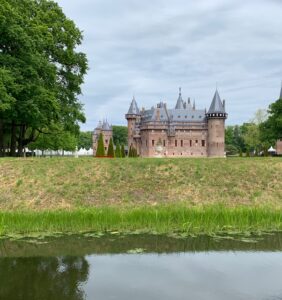 Leaving the city behind, we came across the mediaeval Kastel De Haar, largely rebuilt in the Gothic style in the 1890s but dating back to the 1300s.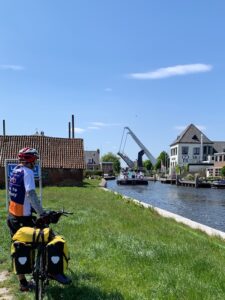 After lunch at a carp fishery, where one fisherman had apparently spent the last 72hours without even a nibble of his bait, we spent the afternoon cross-crossing the canal network. Frogs were living dangerously, croaking loudly even though herons were regularly stationed along the waterways seeking them out. One duck (northern pintail?) had a chick on its back, the sort of travel assistance we need as we enter the final stages of our journey!
Despite the many lifting bridges, we were held up only once by the passage of a boat. We had been told that our destination, Lisse, was a major flower-growing area. We saw none, but did learn that the main flowering season had just finished. Our route through the heart of the Netherlands had taken us a further 70km.
May 15th,  2019: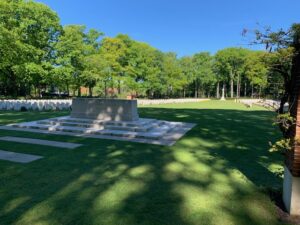 A glorious day for our visit to the Airborne Museum and War Graves cemetery at Oosterbeek, Arnhem. First, we said farewell to our excellent host, Marcus, himself and his family keen cyclists.
 A short ride away, the peaceful cemetery was laid out very simply in a woodland setting, the ranks of identical white gravestones mostly of servicemen in their late teens or early twenties.
The Airborne Museum, close by, recounted the horror of the battle in film, displays and a basement recreation of the experience of being in Arnhem at the time.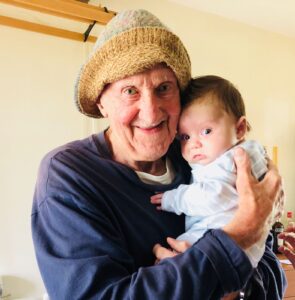 It filled in the background to the stories I had heard of from our old friend, Tom Abbot, an Arnhem veteran who passed away last month in his mid-nineties. Tom, gentle, kind, tolerant and forgiving, had been one of the ten veterans who parachuted into Arnhem again at the 2004 60th memorial service. Aged 81, he'd broken his ankle on a training jump but didn't tell anyone lest he was prevented from participating. That's Tom below with our grandson almost exactly a year ago; he was honored by Parachute Regiments at his funeral in St Medard d'Excideuil, Dordogne in April.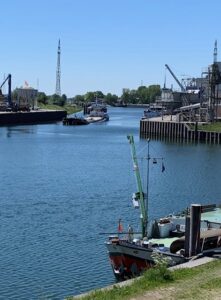 It was a somewhat contemplative ride through the sun-dappled woodlands out of Arnhem after the morning's visits, the route then taking us parallel to the Rhine. In this more densely-populated area there were many cyclists, with parents often riding one-handed as they used their other arm to propel along an offspring.
At Wageningen, a barge heavily-laden with sand and coming in to berth at the wharf was so low in the water that it seemed as if the smallest ripplewould overwhelm it.It was by now quite warm, making us grateful for the tree cover as we rode the final kilometres to Zeist, a satellite city of Utrecht. Our route between two cities had been largely through quiet woods, heathland and along small waterways, thanks to the Dutch priority for provision of cyclepaths. The 78km ride had been very enjoyable.
May 14th, 2019: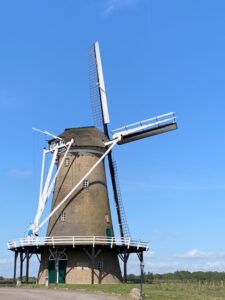 The 'rabbits' seen yesterday evening were, we realised as we sat looking out from the DeGreune Wieden guesthouse, more hares! It would be unfair to name the individual who identified them as rabbits, except to say that it wasn't Andy or myself…….
We headed deeper into The Netherlands on another bright, wind-chilled morning, after a route recalculation forced by a renaming since we planned this trip of all the Dutch cycle routes.
Our first windmill, which we came across soon after leaving Eibergen, had been turned into a visitor attraction. We also saw many old Dutch barns that were roofed in a mixture of thatch and clay tiles, this traditional roof also being replicated in some new housing. Some of the farmhouses has quite imaginative nameplates………..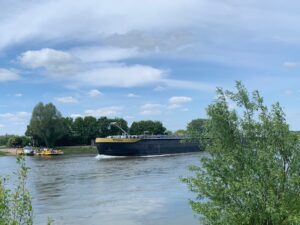 Yet again, there were many cyclists on the wooded paths and, a couple of times, people stopped us to ask us about our journey. After coffee in a community centre we had lunch in a small bakery before continuing to the  Bronkhurst ferry. This, our first ferry since we crossed the Bosphorus at the start of our journey over 6 weeks ago, was altogether smaller – the River IJssel, a branch of the Rhine, was nevertheless navigable and, in confirmation of this, a large barge motored past. The chain-driven ferry cost us €1 each, with no charge for bikes!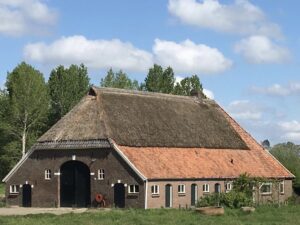 Our passage through the Veluwezoom National Park introduced us to gentle hills and vast expanses of heathland. As we exited the national park on the outskirts of Arnhem, we passed the first of what will be many wartime cemeteries.
The final few kilometres of cyclepath alongside the busy N785  fought us back to the reality of a busy city. The largely flat route had taken us a further 84km.
May  13th, 2019: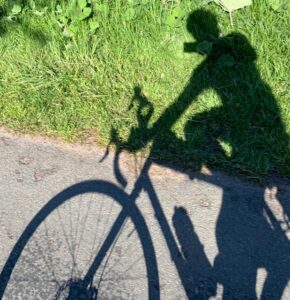 Shadows mean sunshine – and there were lots of strong shadows today! Our glorious May day, still tempered by a biting wind, started with a tour of Munster's old centre. Bikes seemed to be the main form of transport, leading to competition for parking spots in many central locations. Although much damaged by wartime bombing, some of the older buildings had survived as evidence of the city's long history.
Cycle paths radiated our from the centre, swiftly leading us through quiet streets back to the forest and farmland paths. We had read that there were 100 mansions with moats in the area, but saw only two. However, the farmhouses were often both very old and huge.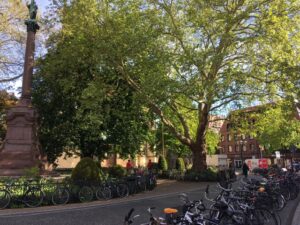 We saw no more asparagus cultivation, with wheat and some rape being the main crops aside from grass. With a fine week forecast, agricultural activity seemed to be focused on grass cutting and turning, although at this time of year most of this would be turned into haylage (fermented dry grass) rather than hay. Hay was apparently a June/July  crop.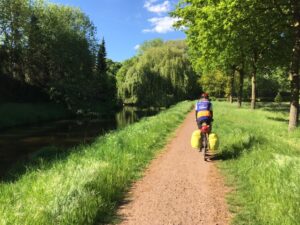 There were again many people using the cycle paths, either for exercise or simply as the connections between villages, with  vehicular traffic generally giving way to bikes.
Late in the afternoon we crossed the border into The Netherlands. The only indications that an international boundary had been crossed were the different language on signposts and the change in car number plates from white to yellow! We arrived at our guesthouse in Eibergen, set in open fields, a few kilometres later; as we cycled up the drive two rabbits appeared……the first siting of this species in nearly 4,500kms! We were 101kms closer to home.
May 12th, 2019: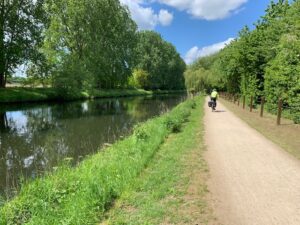 A bright morning with a cold northerly wind greeted our departure from Gütersloh. At just after 9am on a Sunday morning, the roads were understandably very quiet – and we saw our first rabbits of the entire journey, on an advertising hoarding!
Soon we were in the flat park landscape for which this area is known, cycling along the old paved roads, known as 'pattkes', that wind their way through the agricultural fields. There were also sections of forest track and occasional paths alongside rivers.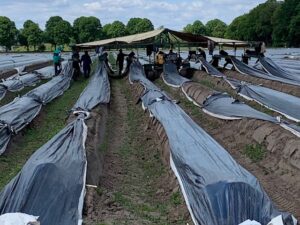 Many of the fields looked trenched, the earth banks – covered in black plastic – actually being white asparagus ('spargel' in German) beds. The  Spargelzeit (spargel season), now in full swing, was reflected in the menus at cafes and restaurants. This, the most extensively grown vegetable in Germany, requires careful picking by hand – as we saw, with a trolley-like machine lifting the plastic to give the seasonal harvesters access to the delicate plant.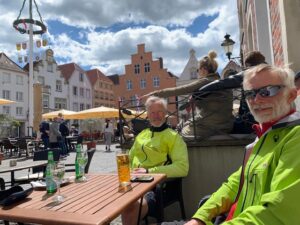 It was good to see people of all ages out on bikes or walking. E-bikes have certainly found a big market here, with many individuals and occasional whole groups of them using the various routes that were well-signposted. The attractive town centre of Warendorf clearly benefited from this mobile trade, as most of us enjoying lunch in the sunshine were on bikes of various sorts. 
From there, it was a continuation of the pre-lunch cycling experience – fields, forest, rivers and many old farms – right into Münster. We arrived without any real warning, as the city was not visible from any distance in this level terrain.
May 11th, 2019: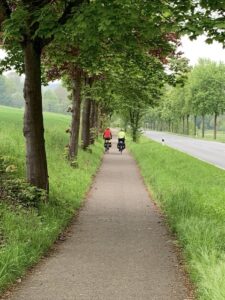 Cycle paths on the outskirts of Hoxter led us through avenues of trees as we continued our journey westwards. It was cold, particularly for May, but the forecast heavy rain did not materialise.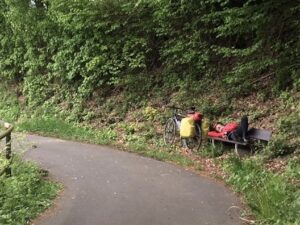 We saw practically no vehicular traffic during the morning and the route avoided all except the smallest settlements but found a path-side Gasthaus that served us coffee and cakes. Rest benches and wooden shelters were frequent on the well-marked R1/D3, although other cyclists were few and far between – the main exception being a couple on a tandem who came hurtling down the narrow path with a cheery ' hallo'!
Many people were out in the Teutoburger Forest, mainly walking in what was our last hilly section before the German plain. The Battle of Teutoburger in 9AD is often cited as Rome's greatest defeat and, at one point, the aftermath of timber extraction had made the cyclepath seem like a battleground!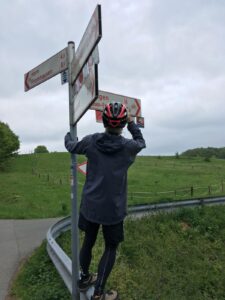 Descending to the plain, I took a close-range image of the R1/D3 signs by climbing onto a barrier, much to the amusement for my companions. We continued our search for lunch but were ultimately unsuccessful, making this a bit of a Marie Antoinette day, as the one cafe we found could serve only tea/coffee and cakes.
The only indication that we had crossed the regional boundary between Lower Saxony  and North Rhine-Westphalia came from the change in candidates on the frequent posters for the European Parliament elections, there being no other obvious signage.
Although cold, the late afternoon run in occasional sunshine provided a different perspective, as the landscape was now flat. Arriving in Gütersloh – where the new development seemed to clash with the few historic buildings – we had covered 100km, with over 700m of ascent that, with the Netherlands  beckoning,
should be impossible to better until we're back in the UK.
May 10th,  2019:
Sirens blared across Langelsheim at 2:37am this morning calling out, as we later learned, the volunteer fire brigade, this town being one of a few still reliant on a public address system for summoning the appropriate responders in an emergency. Not conducive to a good night's sleep, though!
Our new cyclepath route – R1/D3 (hints of Star Wars!) – restored our faith in German signposting, as it was nigh on impossible to take a wrong turn. The promise of being well-surfaced and mostly traffic-free was also met, though some of the way was cobbled, suggesting the road had once been a rather more-important route than it today is. In one village, the fire hydrants had clearly been decorated by children.
Bad Gandersheim was yet another attractive mediaeval town, the coffee shop in a building dating from 1581 – and followed by another, Einbeck, where it seemed warm enough to have lunch outside, only for Steve to have to resort to covering his legs with a blanket!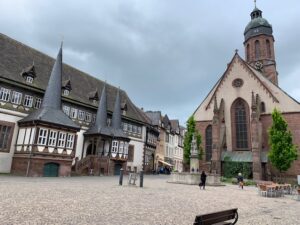 En route we saw another red squirrel; a hare running towards us turned tail, fleeing at high speed, and a number of kites circled around above us.
The day ended with a lovely run along the banks of the River Weser from Holzminden to Hoxter. With a very poor weather forecast for Saturday, it was helpful to our progress to have covered 103kms.
May 9th, 2019: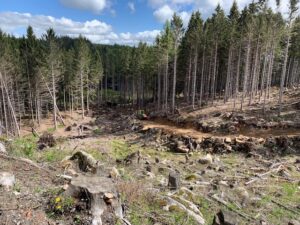 The sound of overflowing roof gutters in heavy rain had stopped by dawn, heralding a dry day with intermittent sunshine as we rode out of  Braunlage. EV13 led us into the forest, where the track was good until we hit timber extraction operations that had churned up the surface into a muddy swamp.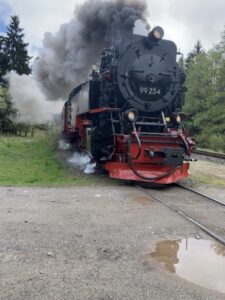 We were fortunately soon through this obstacle and, emerging from the forest across a rail track at Drei Annen Hohne, we saw a steam train preparing to climb up to the summit of Brocken Mountain. It disappeared passed us in a cloud of smoke and steam of its own making, both it and the forest rapidly becoming invisible!
Amongst the people watching this spectacle, we got talking to two men, Iwan and Mike – the former from Llangefni (all of 10 miles from our home) and the latter from Llandudno (still only 25miles from home). They were experienced train drivers who keenly followed the rail systems of other countries, so were a source of much interesting information about the development of this rail line – spanning the east-west divide and disused after the split of Germany after the Second World War – following the country's reunification in 1989.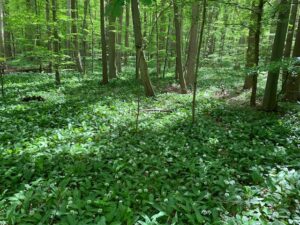 Another forest track that was also a bus route took us to Ilsenburg, within the national park and with occasional evidence of activity from the Brocken witches annual celebrations on 30 April. Descending towards the town, Andy's front wheel locked; fearing at first another bearing failure, we were relieved to discover that it was a worn-out brake pad that was quickly changed.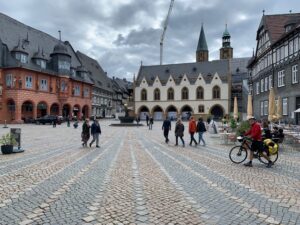 At Ilsenburg we said farewell to EV13 and struck out westwards on cycle route R1/D3 towards Bad Harzburg, the aroma of wild garlic in the beech woods strong in the warmth of sunshine. We then followed a forest track to the mediaeval city of Goslar. the beautifully preserved centre clearly attracting a lot of tourists, busy even between the major holiday seasons.
From Goslar, our new cycle path again took us through forest and along quiet roads. A red squirrel appeared beside us, darting nervously into some trees – and then we saw our first hare for some days!
Langelsheim, our overnight stop, appeared over the fields of yellow rape; our largely off-road day in the Harz Mountains, necessarily slow because of the terrain,  had covered a further 64km.
May 8th, 2019: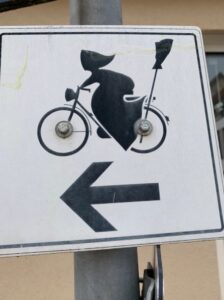 Contrary to the forecast, it was a bright, sunny morning in Nordhausen, with even a hint of warmth as we set off for the Harz Mountains, our fourth and last hilly range.
The mostly flat ride to Ehrlich, through a quiet agricultural landscape studded with wind turbines, took us to the foot of the mountain range. We were puzzled by the road sign of a witch riding a bike, uncertain of its message, but later realised that Brocken – the highest peak in the Harz range – has a long association with witches.
As we entered Zorge, a small village of not much more than one street, we saw the Glen Els whisky distillery that has a highly-rated product. The 5km climb from Zorge to Hohegeiss ascended over 300m through forest, with rain falling from about halfway up. Like Ehrlich before it, Hohegeiss was almost deserted, leading us to eat in a bus shelter the jam rolls we'd made with our breakfast leftovers- and then discovering an open restaurant half a kilometre downhill!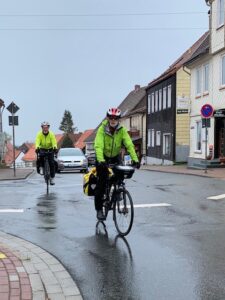 Overnight accommodation was becoming an issue – causing us concerns that we might have to resort to our bivvy bags in very cold weather – but we discovered an open hotel in the ski resort of Braunlage. This curtailed our cycling for the day but, with the increasing intensity of the rainfall, finishing just before 5pm was probably a good decision.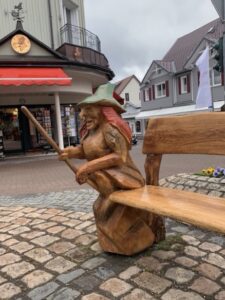 Braunlage featured witches and warlocks at almost every turn and, according to local legend, they gather at the top of Brocken mountain on 30 April every year – so a Halloween six months earlier than in the UK! The Brockenspectre, a magnified and enormous shadow of an observer cast upon clouds opposite the sun's direction, gets its name from first being observed here (we'd seen this phenomenon on Cnicht in Snowdonia some years ago).
A short day, then, covering only 43km but encompassing 825m of ascent.
May 7th, 2019: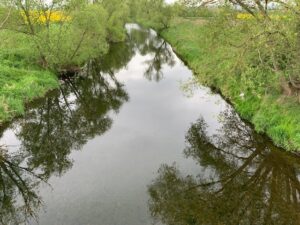 Waking early, I read a summary of the UN report on the state of the world's ecosystems, underlining the extent to which our – and other –  governments have got their priorities wrong. To be within or outside the EU, we first have to be here – and that's not only not at all certain anymore, but we're not actually doing anything about it!
Whilst I was reading, Steve was out getting our breakfast, which we enjoyed in the comfortable apartment before navigating our way out of this city of half a million people. After about 30 minutes we were on a wonderful cycle path, running alongside a fast flowing river that had an incredible number of house martins swooping above the water feeding on insects.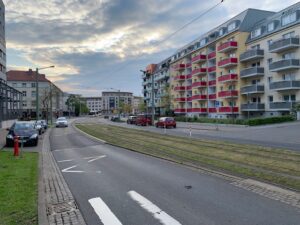 Although cold, it was bright and sunny, drawing many people out on bikes to enjoy the spring morning. After a few days of significant hills, this felt like a rest day, as the route to Nordhausen was largely flat (although, to our surprise, we found we had climbed over 700m by the time we arrived in this small city).
Having spent a short time on a very busy road, we were keen to get onto quieter lanes and, at the coal mining town of Sonderhausen, we found an alternative route that again took us through quiet villages. Despite a rain shower, the day remained bright, the route undulating but with no significant climbs, and we reached Nordhausen soon after 6pm.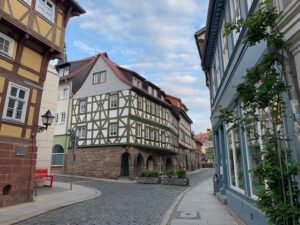 The small city, almost wholly destroyed in the Second World War, was remodelled during the Soviet era. Although the city centre had been restored to its mediaeval glory, the blocks of flats surrounding it had little architectural merit despite much having been done to improve their looks, with bright paintwork and the addition of balconies.
Wandering around the old city in the late evening, it was easy to imagine how wonderful it must once have been. During the day, we had added another 97kms to our total distance covered.
May 6th, 2019: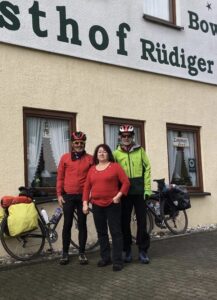 Today we departed from the EV13 route, as the stage was largely off-road on surfaces that would challenge our bikes. Given that we were already short of time, we concluded that it was better to cut out this section and rejoin EV13 further north.
Another cold morning, though bright and dry, saw us tackling the short but very steep rises and plunging descents of the small villages and towns of this Bavarian/Thirungian region.
These continued until we got to Lobenstein, about 15km from Pottiga, where we had spent the night in a very comfortable Gasthaus with a wonderful host. It was from Lobenstein that we started a gradual descent that continued for an incredible 15km.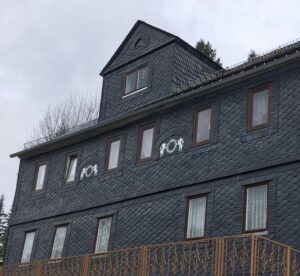 Early in the descent, we passed through the town of Wurzbach, where almost all the buildings were clad in intricate patterns of slate. From there, the downhill run through a tree-clad valley in the extensive Naturpark became increasingly cold, culminating in a wintry shower!
We were very pleased to discover a small delicatessen in Leutenberg serving the most delicious soup; the genial proprietor also served plum panacotta dessert that, together with the soup and tea, cost only €13 for the three of us.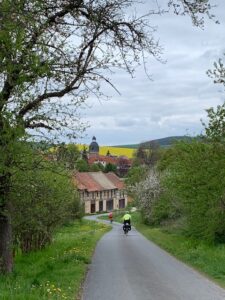 Feeling well-fed, we carried on downwards towards Saalfeld, a major railway junction, at one stage cycling for some kilometres on a busy dual carriageway. From there, we enjoyed a pleasant but cold run along quiet roads, through picturesque villages and wildflower-filled fields. In the distance we could see the hills of one of  the Thirungian nature parks, whilst more locally we were struck by the contrast between slate-clad church towers and the surrounding yellow rape fields.
It was 7pm by the time we reached Erfurt, often described as one of Germany's hidden mediaeval
gems. The day had seen us cycle 111kms and climb over 1300m.
May 5th, 2019: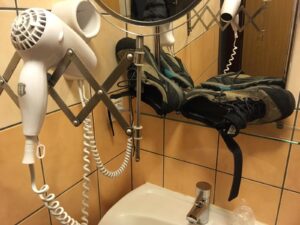 My shoe-drying rig – the cause of much mirth amongst my fellow travellers – was a great success and I felt well-prepared for the day ahead. We pedalled out of a Sunday-morning quiet Cheb, some fishermen trying their luck in the River Ohre being the only signs of life apart from a few vehicles. The cold, grey day did not threaten any immediate rain but, by the time we got to As – only 20km from Cheb but a world away in terms of its general infrastructure – we donned full waterproofs and extra warm layers on a precautionary basis.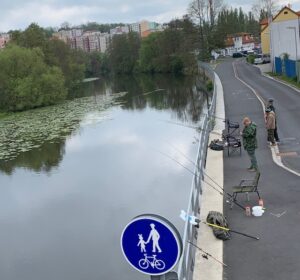 We had already seen snow at about 630m before As and, with the temperature at around 3C, the extra layers were soon justified. Hranice, the small town closest to the border, looked very run down, with no shops or cafes. Just a short distance away, and close to the border, we came across a 'tax-free outlet' that was busy and, close by, a restaurant that seemed to be catering for all the shoppers.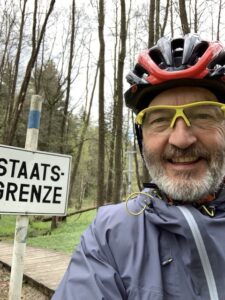 During lunch, the snow returned although, by the time we headed out, the skies were once again clear. EV13 took us through woods and fields to the triple border, where the boundaries of Czechia, East, and West Germany once met. As well as being the border today between Czechia and Germany, there was a tomb marking the grave of an unknown German soldier.
We experienced a real mix of road and track surfaces in the afternoon, ranging from tarmac through forest tracks to fields. EV13 certainly sticks as close as possible to the actual country borders!
Although the temperature did not rise significantly, the bright sunshine and big landscapes provided great views. Wildlife was, however, largely absent – we saw one deer and two black kites.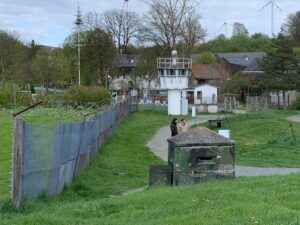 Heading towards Pottiga and our overnight Gasthaus, we came across a well-preserved section of the Iron Curtain, complete with border wall and searchlights, at Modlareuth (a village that was split between east and west during the Iron Curtain years).
Our final few kilometres followed the valley of the River Saala, a tributary of the Elbe, to Pottiga, 93 km from our start point and after over 1400m of ascent.
May 4th, 2019:
We're offered 'damaged eggs' for breakfast, which reminded me of my own linguistic errors. I'd perplexed a number of shopkeepers with my request for a bottle of 'fruhstuck' – only later discovering that this meant breakfast, not fruit juice! 'Damaged' eggs, by the way, turned out to be scrambled.
Leaving Moosbach it was cool but dry, the sky filled with rain-threatening clouds. Soft showers were falling as we reach Pleystein, the Bavarian Forest providing a pleasing backcloth on the quiet roads.
As we travelled, the intensity of the rain increased along with a corresponding decrease in temperature.  By the time we found an open cafe/bakery in Hohenthan, a village on the edge of the forest, we were cold and wet. The bakery proprietor nevertheless ushered us in and provided hot drinks and cake, together with her frank assessment of what we must be to be cycling from Turkey to the UK in this weather!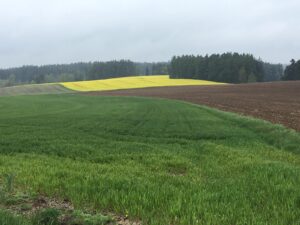 Trying to keep warm, I ended up some distance ahead of Andy and Steve as we headed to our intended lunch stop in Tirschenreuth. The busy main road was flanked by a cycle path – in fact there were two, both going to Tirschenreuth, and I took one whilst they took the other. It took about 30 minutes to find each other, by which time I was very cold and the rain had turned to snow.
Although most shops and cafes in the town were closed, we found a pizzeria where the Italian founder – now 84 years old – made us very welcome, did his best to dry our gloves and engaged us in a very wide-ranging conversation in his very good English.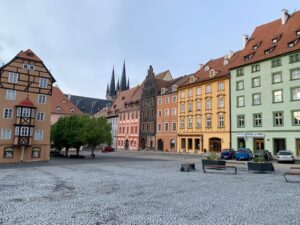 We had discussed our options over lunch, deciding that we would stick with Plan A and head for Cheb, a city just inside Czechia. En route, Andy and Steve recognised that I was rather colder than I realised, insisting on a hot chocolate stop and the donning of more clothing. This made the final 20km, although into the cold north wind, manageable and, shortly after crossing the border, we reached our overnight accommodation in this very attractive city. We were pleased to have covered anothe 75km in such a bad weather-influenced day, together with close to 900m of ascent.
May 3rd, 2019: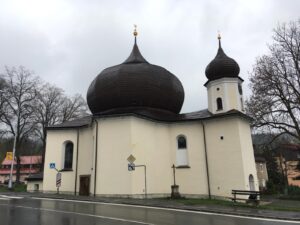 Heat was belting out of the impressive fire in the breakfast room at our Gasthaus. Heavy overnight rain became less intense as we left Zelenza, the grey day adding to the slightly seedy look of this 'in between seasons' town. A brief interlude to photograph the iconic church with its onion-shaped tower was followed by a freewheel down to the German border and our t-shirt 'ticking-off the countries' ritual.
A challenging start saw us climb 5km at a 10% gradient to the Spicak ski slopes at 1050m. As the mist descended, visibility dropped to 50m and it became colder, particularly so as we descended to Lam. The cross-border National Park must have had some magnificent views; we could see only a few metres into the forest!
We then warmed ourselves by a roaring fire in the coffee stop Gasthaus in Lam before climbing up to a second skiing area at 800m..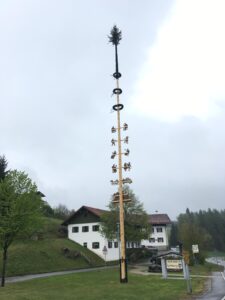 The rain finally stopped just before we arrived at Furth im Wald, a typical Bavarian town and with a magnificent maypole in the main square. The owner of the restaurant where we had lunch insisted on giving us handfuls of small Lindt chocolates when he heard of our journey.
Yet another stiff climb – this the steepest of the day – took us to our third ski resort at Waldmunchen, again at over 1000m but looking deserted.
The late afternoon got a little easier, with shorter climbs at more manageable gradients and reasonably fast descents. It was now getting late, so our break in Schonsee was very brief before we headed to our overnight stop in Moosbach. Just before 7pm the clouds cleared and we were bathed in sunshine, the warmest we'd been all day. Another 107km along the route and a new record ascent for this trip of 1862m , so little surprise that we were tired!
May 2nd, 2019: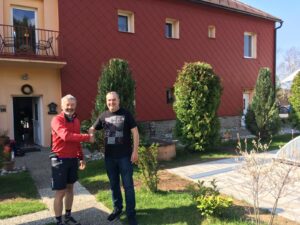 Tibor explained that the rush of early morning traffic we'd heard, from about 3am, was Czech workers returning to their jobs in Germany after the Mayday holiday. This was further evidence of the split economy we'd heard so much of in almost all the countries we'd passed through – those who worked away (usually in Germany) enjoyed a different lifestyle to those who lived and worked locally.
Tibor's assistance proved astoundingly generous today, firstly when he took Andy and bike to Valory and then, when the bike shop proved to be closed, working out an alternative plan. He took Andy to Lenora station and put him on the 9am train to Vimperk, where there were three bike shops.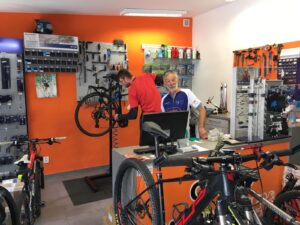 Steve and I were then waved off by Tibor as we tackled the climb and descent to Valory, about 18km distant. It was a beautiful morning and the road through the national park was very scenic, with a lodge at the hill crest reminiscent in style of Surrey! Arriving in Vimperk, we found Andy's wheel being repaired by the mechanic to the Czech national downhill racing team. He also fixed a slight problem with my gear indexing, all with great humour and translation assistance – he spoke little English – from the customer who had given way to me.
After an early lunch we set off for what we knew would be a hilly ride through the Sumava national park to Zelezna Ruda, a ski resort on the Czechia's border with Germany. The warm afternoon and wooded landscapes, with an under carpet of spring flowers, compensated for the long climbs – and the descents, of course, were hugely enjoyable. The attraction of Sumava was evident from the numbers of walkers and cyclists that we encountered.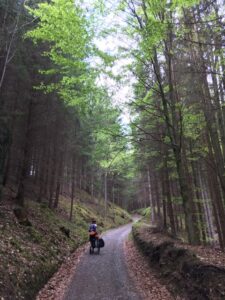 The small town of Karsperske Hori  provided our afternoon tea break, accompanied by a delicious 'cake'. As we bottomed-out of the hill down from the town, we found the road ahead closed. A quick consultation with some Czech cyclists -coming from the opposite direction – confirmed that there was an off-road route through woodland. Parts of this were impossible to cycle, but brought us back onto our intended route below the major roadworks.
A little later we encountered a second section of major roadworks, this time through the small town of Hartmanice. Fortunately we were able to push our bikes through the excavated main street, as work had finished for the day.
Then it was a fairly straightforward run of rolling hills to the 4km descent into Zelezna Ruda, where the hills above were still snow-covered. Our Penzion was quiet, it being between the skiing and summer seasons, and the town's shops were selling-off their winter sports merchandise. Despite the disruption caused by the bike repairs, we had cycled 72km and climbed 1500m.
May 1st, 2019: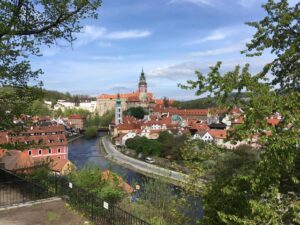 On a bright, sunny morning, the maypole was still standing in Kaplice square, suggesting either that it had been successfully defended from marauders overnight or that the tradition – of half the men guarding their pole while the other half try to destroy maypoles in other villages – had died out. The main May celebration then apparently takes place on the following Sunday and is similar to first footing in Scotland, except that the houses visited by the unmarried men are those of maidens!
Cesky Krumlov, often claimed (and, as we saw, with good reason) to be a mini Prague, was already busy with tourists at 1015am. Dominated by its 13th century castle and built on hills in two loops of the Vltava River, we were drawn to the museum dedicated to painter Egon Schiele. Schiele, part of the secessionist movement started by Gustav Klimt in late 19th century Vienna, lived in Cesky Krumlov for a large part of his short life – both he and his wife died in the Spanish Flu epidemic of 1918.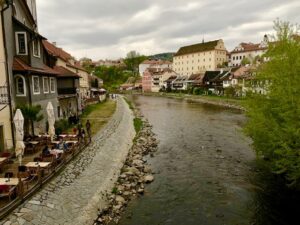 As clouds gathered, a cycle path on the outskirts of the town took us into a tree-covered landscape, the start of the Sumava National Park, where we joined a quiet road that led to Horní Plana overlooking the Nadrz Lipno lake.
After a late lunch, we had an interesting afternoon of generally-short, steep climbs and plunging descents that taxed our tiring legs. In the distance, we could see snow on the Stozac Mountain.
We were relieved to arrive (after 77km and 1200m of climbing) in Lenora, our overnight stop, as Andy's back wheel had developed a worrying noise. We quickly established with host, Dibor, that the bike shop in Valory – 18km back – would be open at 8 in the morning and that he could give Andy a lift there.
Dibor's life history was fascinating, as he had tried to escape from his native Hungary and had been jailed for being an anti-communist. He had been imprisoned in both Hungary and Czechoslovakia before doing his national service where, as a convicted anti-communist, he was given a gun but no ammunition; he was also barred from border patrols! The revolution that brought Vaclav Havel to power led to an official pardon and enabled him to fulfil his travelling dreams. Dibor's concern was that people seemed already to be forgetting the history of European conflict; for him, the European Union was a peace project that had delivered.
April 30th, 2019: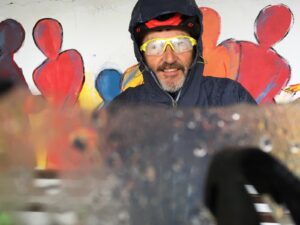 Our landlady at Pension Schneider, a vast pink building in the centre of Raabs where we proved to be the only guests, cheerfully showed us the dreadful weather forecast just before we left. The rain that poured down as we breakfasted in a nearby Gasthaus hadn't eased at all by the time we started the climb out of this attractive town.
The morning proved to be a slog; wearing full waterproofs, it was heads down in the heavy rain, with just a couple of short stops in village bus shelters to munch a snack and drink some water.
Despite the fact that we were dripping wet, we were welcomed into the small coffee shop in Vitis, where two local men questioned us with great interest about our trip as we enjoyed a slice of apple pie.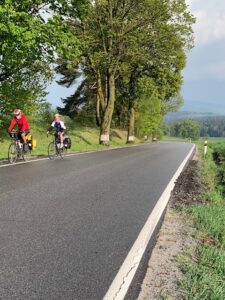 The rain finally stopped just before we reached Gmünd, a small but historically-important town on the River Lainsitz. The river forms the border with Czechia, where the town of Ceske Velenice sits on the left bank. It remains a significant rail and road crossing point between Austria and Czechia. Gmünd was very quiet, all the shops were closed and there were few people about. The contrast when we crossed into Ceske  Velenice was marked; a bustling town with many shops and shoppers.
The clouds gradually gave way to weak sunshine as we pedalled through forests bordered by small lakes and villages where maypoles were being prepared for the next day's celebrations.
Stopping at Nove Hrady to book ahead for our accommodation in Kaplice, I had my closest encounter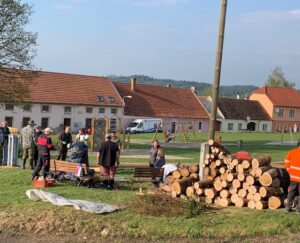 with an angry dog when a small terrier tried to bite me!
Just outside Kaplice, in Bunsko, a small crowd had gathered to watch the maypole being prepared- and, when we arrived in Kaplice after a hilly ride, the maypole was just being erected in the main square.
A day of contrasting weather had seen us cover 91km and about 1200m of ascent.
April 29th, 2019: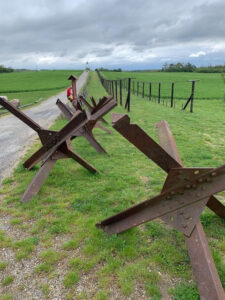 Our departure from Znojmo, on a wet and cold morning, was delayed by a very necessary visit to Cyclo Kucera, the recommended bike shop for Steve's wheel repair. This took about an hour, during which we sheltered in a small cafe, and cost only about £20.
Dropping down from the town to the Dyje/Thaya River, we were on our way soon after 10am. EV13 was well signposted, but the off road section we entered – through a part of the Podyji National Park – proved to be quite muddy in the rain, although otherwise pleasant…..and out of the wind! A large (4 inches) green/grey slug with black markings caught our attention.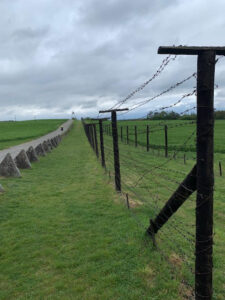 We came to Czechia's only preserved section of the Iron Curtain at Cizov. Construction of the  Iron Curtain commenced in 1951 and it eventually ran continuously 7,250km from the Baltic to the Adriatic Seas. The electrified fence carried 10,000 volts and, in Czechia, almost 400 people were killed over 50 years trying to escape. Even more border guards perished, though very few through armed conflict.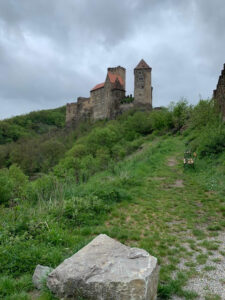 The descent that followed took us back to the river and the picturesque border settlement of Hardegg, dominated by its 12th century castle and with city status despite having less than 80 inhabitants. Crossing the river, we entered Austria and had lunch in a wooden gasthaus, outside which was the first e-bike charging station we'd ever seen.
The price of our long descent into Hardegg became clear after lunch, as we toiled back up to the agricultural plateau. The rain returned and, with the chill factor of the wind, made it feel decidedly wintry. Another long descent took us down once again to the river, where a sculpture of an angel cycling graced a riverside field.
The long climb back up was at a mercifully-tolerable gradient, although we were still relieved to arrive in Raabs an der Thaya, another picturesque town with a dominant castle. A bakery shop owner helped us with accommodation, calling a guesthouse-owning friend who had available rooms.
It had been a late start on a windy, chilly, wet and hilly day; we had travelled 64km and climbed nearly 1100m.
April 28th, 2019: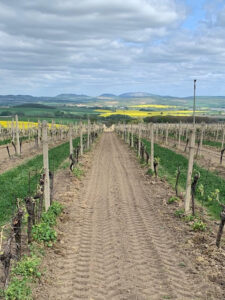 The good breakfast in our Penzion set us up for a chilly Sunday morning ride into the strong northwesterly wind. Progress was slow, with large sections of unmade road, on the quiet lanes of the well-signposted EV13. Vineyards abounded as we followed the Veltliner Trail, its route coincident with ours.
Yet again we saw many hares, one of which was gently running towards us until it looked up! On a dull day, the yellow rape flowers seemed to almost glow in the rolling countryside.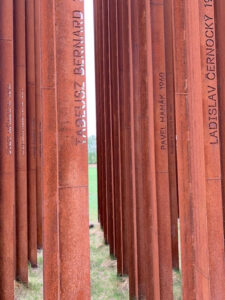 We passed a number of memorials to those killed in the Cold War, culminating in a sculpture of rusting upright girders into which individual names had been cut. In the distance, we could see the historic Mikulov Castle, where a number of important treaties were signed between warring countries in the Middle Ages,  and surrounding town.
Crossing from the Czech Republic (Czechia) back into Austria we had lunch in a lively gasthaus in Laar an Der Thaya, where the two ladies fronting the operation seemed astounded at the length of the bike ride we were undertaking. Although they confirmed ownership of bikes, our offer for them to join our trip was declined!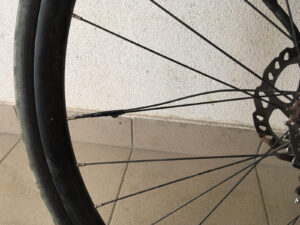 Just before resuming our journey, a quick inspection of Steve's bike confirmed that the apparent buckle in his rear wheel was real – a spoke had broken free.
We concluded that the afternoon cycle would need to be undertaken at a leisurely pace to ensure that Steve's wheel did not get too much worse. In practice, the headwind was so strong that we could not in any case have proceeded much more quickly.
We reentered Czechia on the outskirts of Laar, following a cycle path through more fields and seeing both hares and deer running freely in the open landscape.
The route took us along the Thaya River (known as the Dyje River in Czechia) valley through Hodonice and into Znojmo. The Thaya/Dyje is the longest tributary of the Moravia River at 224km.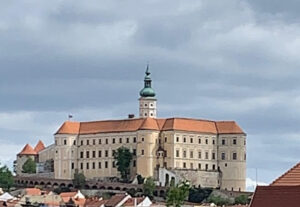 Znojmo, a walled town in the South Moravian winemaking region, ended up being our overnight stop, as it had a well-regarded cycle shop open from 8:30am on Monday evening. The tower clock was showing 5pm as we secured very comfortable accommodation in a 15century Penzion at a favourable late-booking price. Despite the mishap with Steve's wheel, we had covered 74km.
April 27th, 2019: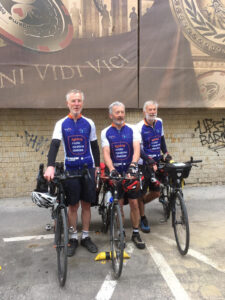 We left Bratislava in a strongly-gusting wind on an otherwise fair day. The Saturday morning traffic was fortunately light, and we were soon on a cycle path running upstream alongside the Danube. But for good marshalling, we could have become entangled with a triathlon event on the riverside near the city boundary!
In no time we had reached Devin Castle, a ruin some 1100 years old set in a commanding position at the confluence of the Morava and Danube rivers. A barge battled upstream against the strongly-flowing Danube, as we headed north along the Morava.
We were now on a long cycle path, passing through woodland and open fields as we headed gently upstream. The average gradient of this river, at less than 2%, has led to the creation of wide plains with sands and gravels that are extracted at a number of points.
The land was mostly given over to cereals and rape, with no grazing animals. The region also has significant natural gas – and some oil – supplies that are exploited in many small wells.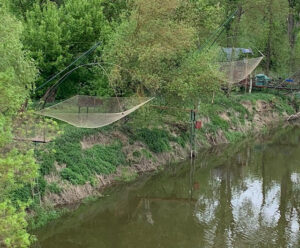 Along the river, fishermen's huts with round lift nets suspended above the water were commonplace. They are apparently used with a light to catch carp.
The villages through which we passed were undoubtedly less prosperous than Bratislava and we had difficulty in finding any open shops or cafes. Information boards on the route described the history of conflict and explained the large number of pillboxes that we saw.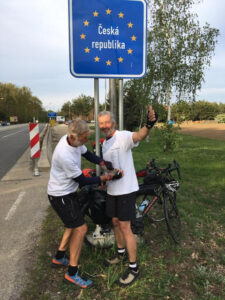 Having had banana and biscuit bars for lunch, we were determined to get to Hohenau an Der March for tea and cake mid-afternoon, which we did.
Continuing along EV13 took us along the quiet main road for a few kilometres and, just after crossing into the Czech Republic, we were again off-road as we completed the 11km ride into Valtice.
April 25th & 26th, 2019:
Some mid-point reflections from our rest day: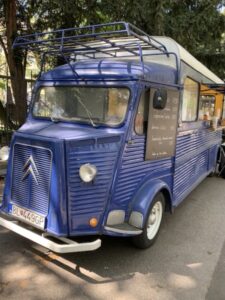 We have encountered only sociable (friendly, helpful, generous) people in every country, with the Serbs outstanding in this respect. There have been a surprisingly high number of smokers – and smoking has generally been allowed in restaurants! The first rough sleeper we saw was in Bratislava.
There has been a general air of disbelief that UK's made such a mess of Brexit; the respect for our democracy and the 'mother of parliaments ' has gone…..and probably can't be restored
Astonishing amounts of discarded waste, especially plastics, have been evident in the nonEU-member countries. Tree cover in all but Turkey and Greece has been extensive, with Slovenia at over 50% (compared with 11% in Wales). Wildlife highlights have been hoopoes, hares and harriers – plus a very few (11 in 2500kms) squashed hedgehogs, or any other roadkill. South Bulgaria's is very mountainous!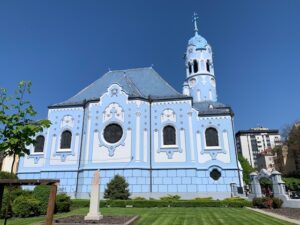 The impression of prosperity increased as we travelled north-west. Some small countries (Slovakia/Slovenia) had universal health care and free tertiary education.
Some high tech industry, but mostly agricultural, with industrial-scale farming interspersed with traditional small holdings. Extensive horticultural areas on the wide plains. 4G just about everywhere!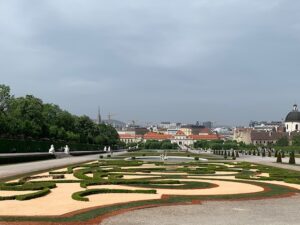 There has been a considerable and evident Border Police presence in each country, on the quiet roads and forest tracks – but we saw no immigrants. Motorists from Bulgaria onwards have been respectful of cyclists – who seem to have right of way in Hungary and Austria.
April 24th, 2019: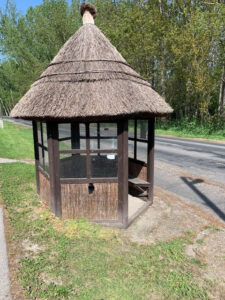 We rode out of Sopron on a windy bright morning, exchanging busy roads fairly quickly for adjacent cycle paths. As the traffic eased, we enjoyed the birdsong emanating from the tree-lined paths, the carpeting of wild garlic flowers adding to the sense of spring. We saw thatch-roofed bus shelters in one village, continuing a trend we'd noted for settlements to have their own unique styles for these.
The day had become considerably warmer by the time of our coffee break in Fertorakos, a straggling town with no clear centre.
Then we found ourselves, together with many other cyclists,  in the wetland reserve at the southern end of the Neusiedler See national park. The strengthening wind, when behind us, supported freewheeling on the flat roads – bliss!Progress slowed considerably, however, when the road changed direction!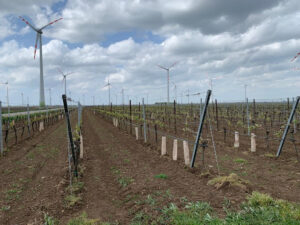 At one corner, Andy narrowly avoided a snake that was slithering across the tarmac. Further ahead, an information board described the project aimed at saving the eastern imperial
eagle and the saker falcon.
A yellowhammer flew alongside us, it's colours picked out by the sunshine, as we came to the end of the national park. By now hungry, a guesthouse in Pomhagen proved to be an excellent lunch stop and gave Steve a chance to further practice his developing German language ability. We all got what we'd thought we'd ordered, a testament to Steve's linguistic skills!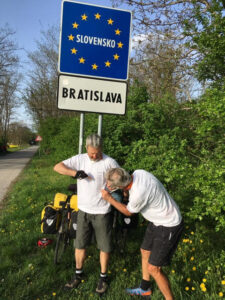 We were still 60kms from Bratislava, where we had accommodation booked and would be enjoying a rest day, so took advantage of the south-easterly tailwind to ramp up our speed through the extensive Andau wind farm.
Our final stage towards Bratislava took us through quiet villages and fields of rape and wheat. A closed level crossing held us up as two trains sped by. We spotted what we thought was an escaped turkey, realising later that we had seen our first great bustard.
At our final border crossing of the day, into Slovenia, there was a brown tent with two soldiers on the Austrian side; we had earlier seen brown tents on the Austrian border crossings on other minor roads, evidence of the downgrading of controls.
We completed the 124km journey from Sopron to Bratislava in the early evening.
April 23rd, 2019: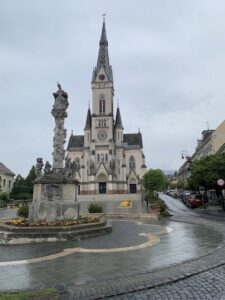 The bar at Klub Tornay, where we had spent the night, opened at 6am, availing us of the opportunity of a coffee before heading off in search of breakfast. There was much amusement over our dinner last night amongst the early morning clientele, who advised us to head to the nearby city of Szombathely, 10th largest in Hungary. In the city suburbs, excellent off-road cycle paths led us through parks and quiet streets to our breakfast at the bus terminus. This included something called 'fitness croissants', wholemeal and full of plums.
Light rain fell steadily as we entered Koszeg, a pretty little town with an ornate church in the main square. From there EV13 took us onto a forest track, which was fortunately still dry despite the rain.
Steve got his second puncture as we exited the forest into the ancient village of Olmond. Andy and I had cycled on, so backtracked when Steve didn't appear. Having replaced the tube on the second attempt – the first being already punctured – we then missed an EV13 signpost!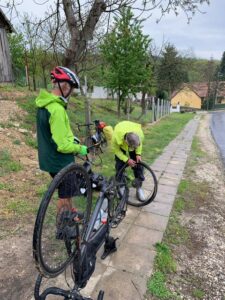 Our route back to EV13 took us through the village of Peresznye, where a hearty soup and dessert set us up for the afternoon loop through extensive vineyards in chilly, damp weather. With EV13 always close to international boundaries, we crossed borders a few time but without any checks.
The last 6km to Sopron, on a busy, fast road, was challenging. Stopping near the city center to work out where our overnight accommodation was, we were approached by a lady who invited us to check-in for our apartment. By some incredible coincidence, we had stopped outside the offices of the letting agency, some distance from the actual apartment.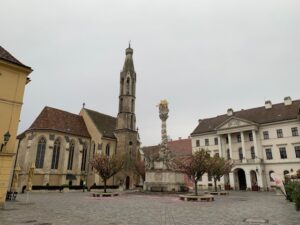 Sopron, an ancient city destroyed by fire in 1676 and later the home of composer Franz Liszt, proved an interesting place to wander around in the early evening. Fine buildings and monuments dominated the city center, which was very quiet after the Easter holidays. Another day over, with 80km traveled and, surprisingly, over 500m of ascent in what had seemed a flat day.
April 22nd, 2019: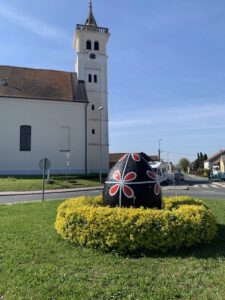 The Slovenian waitress spoke German but no English and so our breakfast conversation was conducted via two English-speaking German cyclists! As ever, eggs came in threes.
Then, heading ever closer to the border, we crossed a flat plain with pretty villages and almost no traffic. It was a joy to cycle in the coolness of early morning with the sun on our backs, as we approached the point where the Pannonian Plain meets the first low hills of the Dinaric Alps. Slovenia, a little bit smaller than Wales and with a population of 2million, is 50% wooded and we were soon in the trees. We had once again seen much evidence of Easter in the form of decorations, a giant egg being the central point of one roundabout in Dobrovnik.
The route took us through a National Park, with many short, steep climbs. The gradients, of up to 17%, proved a challenge for the gearing on our fully-laden bikes…..but we achieved some impressive speeds on the descents!
For once the morning  break did not feature coffee, as there were no open cafes, but we found a shaded spot for munching snack bars we carried.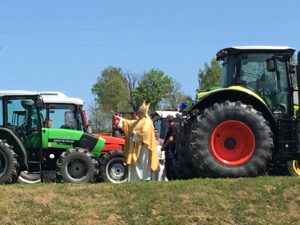 As we passed through the small settlement of. Cepinci, a crowd of people – again dressed in black – filed out of the church and across the road to a parking area full of tractors. Intrigued, we stopped to watch as a bishop set about blessing each of the vehicles, a film crew following in close attendance.
After a few more hills we reached Szentgotthárd, a bustling town into which seemingly every cyclist in the area had descended for lunch. It was also the place where the EV13 route mobile app started fully-functioning.
We spent the afternoon criss- crossing the Slovenian, Hungarian and Austrian borders, as we traveled along forest tracks and quiet roads. Creating a hill in the forest, we found ourselves outside a large church with the stations of the cross depicted on 12 stone carvings.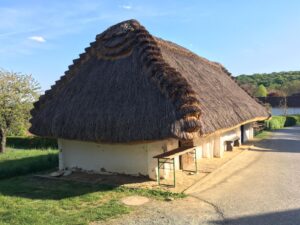 We dropped down onto the plain through a very picturesque Austrian village of thatched cottages. Later, our passage was observed by a large hare that rose up in a ploughed field before loping off in the opposite direction.
We were tired by the time we arrived in Torony where, to our disappointment, the accommodation had no restaurant. This was compounded by the village restaurants being closed for Easter – and so dinner was crisps, nuts and ice-cream bought at a petrol station! But we had covered a further 117km and almost 1000m of ascent.
April 21st, 2019:
The Lord Panzio, our overnight accommodation, provided a very full breakfast for €3, which was just as well as shops were closed for Easter Sunday. Having wondered who Lord Panzio was, we later learned that 'Panzio' meant guesthouse!Leaving Berzence in bright sunshine, we were struck by the sombre clothing of the Easter churchgoers who, of all ages, were dressed in black. A field of strawberries was just coming into flower, but most of the land was given over to what looked like Christmas tree nurseries (advertised as 'Fenyon Elado'…..fir trees for sale).The fir trees theme continued as we headed westward into wooded hills, a welcome change from days of flat landscapes.
A lone harrier floated effortlessly over a yellow field of rape; few people were evident in the villages through which we passed, although Easter decorations were prominent. A first sighting of Japanese knotweed since the trip started was an unpleasant surprise; hopefully action will be taken to eradicate this invasive plant before it gains a real stronghold.Andy came to a sudden halt cresting a small hill. Three deer were in the road, having leapt a highfence erected to keep them out of the tree plantation from which they'd just emerged! They then cleared the deer fence on the opposite side of the road and were soon out of sight.
Rolling hills, with some short but steep climbs and beautiful views, took us to Surd and the first open cafe that we had seen. As we enjoyed a coffee, some cyclists came racing past. They were soon followed by others, the first racing bike riders we had seen since Turkey. The 20km to Nagykanisza passed quickly, with more Easter decorations along the way. There was a long lead through suburbia into this old city of about 50,000 people. Founded by the Romans, it has had a turbulent history, due to its location at the convergence of five ancient roadways. Today it's invaders are primarily dental tourists, taking advantage of high quality treatment at very affordable prices!
The city centre was very quiet and, after lunch, we had an easy passage through what, at other times of the week, might have been a very busy route out towards Slovenia. Having been impressed with the lack of formality in crossing into Hungary yesterday, entering Slovenia was even easier, as the border post had been abandoned.Hillside vineyards and villages with houses set back from the road suggested a marked difference from Hungary, as we made our way the few kilometres to Dolga Vas, where we had booked a room for the night. Our distance from home had been reduced by a further 97km.

We left Donji Miholjac on a glorious Saturday morning, waved off by our landlady, who first bought us an espresso coffee to ensure that our brains were in gear! A stork seemed to be monitoring our departure from its observation point on a street light.
We cycled between yellow fields of rape and young green cereal shoots, with the hills of the Papuk national park in the distance. A buzzard swooped down to the edge of the rape field adjacent to the road; seconds later it rose into the air with talons firmly holding its prey, probably a lizard.
Our second pallid harrier, skimming the fields just a few metres above the crops in search of prey, was flying slowly in the morning heat.
We passed through a number of small villages, each having small holdings and houses interspersed on the main street. This mix of agricultural and ordinary homes is an attractive feature of Balkan settlements. Almost every
dwelling, old and new, had its own well sunk into the karst – water-bearing – rocks that define half of Croatia ( and despite there clearly being a piped water supply).

We again had a stork observing us, this time from a nest, during our coffee break at Sopje. The rest of the morning was taken up with a delightful wander down quiet lanes through more sleepy and neat villages. Our lunch at Suhopolje was gratefully received by three hungry riders
We then meandered along the course of the Drava, that forms the boundary between Croatia and Hungary, though never in sight of the actual river until we rode over it at the border bridge……where there was no queue. A statue of St Stephen, Hungary's patron saint, marked the entry point.
We could not find accommodation in Bobocsa, our intended overnight stop, but some local people advised us that there was a hotel in Berzence, a further 30kms away. This unplanned early evening cycle took us along roads lined with mistletoe-festooned trees and past a couple of small natural gas extraction wells. The hotel
was inexpensive and could accommodate us, much to our relief. It had been a great day's cycling and, after 133km, we were tired!

I woke to the sound of a woodpecker drilling above a backing chorus of birdsong. Another sunny start to the day, though with no breakfast, meant that we headed off earlier towards Serbia. After a brief stop at a garage for chocolate biscuits and nuts – all we could get – the border crossing was again easy for bikes………and a long wait for those in the line of cars and coaches.
After a few kilometres of pleasant cycling in the morning sun, passing through a couple of small villages with interesting old houses, we spotted Anna's Cafe, where we completed our breakfast with a krempita and coffee.
Mixed woodland lined the road down to the Danube and the Croatian border. First, we crossed the Veliki canal, a major waterway also known as the Great Backa canal that connects the Danube and Tisa rivers. Major reconstruction work was underway on a lock near the Danube.&
We said farewell to Serbia as we reached the Danube; we had really enjoyed our times in the country, meeting many very friendly, generous and helpful people. The wide river, overlooked by the monument commemorating the Battle of Batina 1944, was fairly quiet with just one barge and a few large pleasure craft.

Having had three days of flat roads, the 70metre climb on cobbles up to the agricultural plateau above the Danube was a welcome change. We were soon travelling along a country lane bordered on one side by a river, with tranquil villages and the ever-present song of skylarks.

Just as we entered the city of Bela Menastir a clattering from my panniers announced that my rear luggage rack had worked free on one side. Fixing it delayed lunch by 15 minutes, after which we set out for Doji Miholjac, our overnight stopDespite this being a largely Catholic country, there was no evidence of any activity in the many churches that we passed during the day. The wildlife highlight of Good Friday was spotting a harrier swooping low across a field in the late afternoon.
Entering Doji Miholjac, we spotted an 'apartments for hire sign' and, within a short time, were installed for the night adjacent to a restored castle. We had covered a further 111kms.

On a glorious Kanjizan morning we cycled the few kilometres to the Hungarian border, which we crossed with surprisingly little formality. Bikes, like pedestrians, were allowed to jump the car queue; lorries stretched back as far as we could see.
Having left the Serbian autonomous region of Vojvodina – where everything except economy and health is devolved – and its Pannonian Plain, entering the wooded landscape of Hungary was a very acceptable change. The quiet tree-lined roads, with small farms and occasional cottages, were a joy to ride on in the warm sunshine. Cycle paths were frequent, though almost unnecessary given the low volume of traffic.

Moraholm, a neat and busy town, provided our coffee stop and gave us time for reflection on first impressions of Hungary. It seemed more prosperous than Serbia, the people just as friendly and there was a welcome absence of litter!

We continued through fields of wheat, at one stage surprising a snake – possibly one of the two species of viper – basking on the road. Our route across heathland and through pine forests delivered us to Ossattaholm by lunchtime; unusually, there were no cafes and so we had a picnic in the park. A group of presumably volunteers – women and men of all ages – was reconstructing the children's play area in this otherwise quiet setting.
The afternoon's road was even quieter, passing through more heathland and the occasional
small timber yard. Buzzards, kestrels and storks were the most evident birds in the growing heat that threatened, at one stage, to give way to a storm that thankfully failed to materialise.
We'd noticed that most of the many churches were busy with services or other events, presumably in the run-up to Easter. One in particular stood out because of its multicoloured roof tiles.
We were on a roll now, enjoying the flat, traffic-free cycling in a pleasant and sunny landscape. The magnetic-like attraction of an ice cream parlour in Kelebia, very popular with locals, provided the opportunity for us to resolve our overnight plan. Opting for a further evening cycle, we carried on to Nagybaracska, where the apartment we thought we'd reserved turned out to a three- bedroomed house by the River Ferenc-tapcsatorna! It was by now nearly 7pm, we'd cycled for 140km and it was time to find something to eat.

Three weeks into our trip, we were right on schedule!

Click here to see a map of the current location of Roger and his crew!
April 17th, 2019:
It was farewell to the statue of Rocky as we headed out into a cold headwind on a bright morning. The road ahead was once again long and straight, with intensive agriculture on a huge scale. Distant silos looked like castles on the horizon, the occasional horse-drawn plough of a small farmer looking incongruous in this landscape.
After about 25km, we stopped for coffee in the small town of Nova Crjna. A Roma market, selling secondhand clothes and various used goods, was underway. Spotting my leggings, one of the stall holders suggested to Andy and Steve – who were in shorts – that he had a range of 'pantaloons' that they might find useful
We continued towards the Romanian border, before turning westwards on the road to Hungary. The city of Klandinski, where we had lunch, was alive with people enjoying their midday break. As well as office workers, students and school pupils, children from a nursery were playing in the city centre, all resplendent in Easter bonnets.
A large EV13 information board, prominent in the main square, confirmed our afternoon route. Once again, it was long, straight roads and a fairly strong headwind……….
After Mokrin, the road had been prepared for resurfacing and was bone-jarringly rough for almost 10kms. A deer ran across the road in
front of us, sprinting away across a field of hound wheat. A little further on a hare stopped to look at us before loping off into the distance.
From there to our overnight stay in Kinjasa took us until 7pm. We'd covered 110kms against a strong headwind.
April 16th, 2019:
The early morning mist gave way very quickly to sunshine as we left Vrsac. Despite dreaming that I was stranded in the desert, and then waking to find that the apartment heating system had run amok, the disturbed night did not impair the enjoyable ride through the city.
A vast agricultural plain stretched out in front of us, with apples and wheat the dominant crops. The roads were straight and endless, with a northerly wind…….as we headed north!
I made a slight error at our morning coffee stop in Plandiste, where a misunderstanding resulted in us all being served thick Turkish coffee, the silver lining being a piece of Turkish delight. I was unsure whether my compatriots felt that the silver lining outweighed the cloud.
Then it was back onto the long straight roads, an increasingly strong headwind and a slog to lunch in Secanj, where we were warmly applauded by an elderly man for riding EV13. On the outskirts of Secanj, a sculpture of what might have been a cat dominated the end of the urbanised area, though without any explanation as to what it represented.
We then passed through the villages of Lazarevo and Klerk. With a number of imposing and clearly empty houses, both settlements reflected what we'd learnt was a Balkan cultural norm – those working abroad built large and distinctive properties in their home villages but, of course, they were unoccupied most of the time.
A huge mound of rotting straw – the third we'd seen – confirmed the prevalence of cereal production. The open landscape of massive fields meant that we did not see much wildlife, although the song of the skylark was ever-present.
After 93km we reached Zitiste, our overnight stop. The main feature of the town centre was,
rather bizarrely, a sculpture of the Sylvester Stallone character Rocky!
April 15th, 2019:
An excellent breakfast, served by the matriarchal head of Pensinuea Sanella, set us up for an enjoyable day's ride. We were directed to a small shop for replenishing our water supplies, Steve and I becoming temporary assistants for restocking as the owner had a broken arm and could not carry the bottled water up from her storage area.
All along the river fishermen were camped out, with up to 10 rods each in the water. Despite all this fishing effort, we saw no fish!
An interesting riverbank quarrying operation on the Serbian side had a lift shaft to get products up to the road high above. On the water, a number of boats – some with outboard engines, others being towed – were pulling in nets. Having drifted some way ahead of Andy and Steve, I was alarmed to twice be chased by small packs of dogs and was left wishing that I had the sonic dog deterrent.
The wide river gorge in which we'd been cycling broadened our into an impressive lake, with the ten-towered 14th century Golubac Fortress on the Serbian side. In the fishing village of Coronini, with its pastel-coloured terraces of cottages, nets were being mended. A Forth Bridge-style railway crossing seemed to cross over the Romanian mainland to the island in the middle of 'Lake Danube', but we could find no evidence of its existence on our maps….
Rain started falling as we entered Moldova, where seemingly the entire population was heading with purpose in the same direction. Enquiring at a cafe as to what was going on, the barista said it was simply a normal Monday morning!
The rain continued until we were about halfway up an 8km climb of about 400m towards the Serbian border. By lunchtime we were back in Serbia and, after a welcome meal, enjoyed cycling in warm sunshine through extensive apple plantations. We passed through the attractive towns of Kusic and Bela Crkva, the latter having an impressive church (and the clue, as I later realised, being in the name!).
Nearing Vrsac, our destination, the skies darkened threateningly and, just after we donned waterproofs, the heavens opened for a 15 minute deluge; there had been no rain in the city, though. As ever, local people were very helpful in locating our accommodation, one even phoning our host, Milan, to arrange a rendezvous.
Milan stored our bikes at his home, a few minutes walk from the apartment we'd rented, gave us coffee and then took us by car on a tour around the centre of this charming cathedral city. A good day's ride and another 103km under the belt!
April 14th, 2019:
Orşova, our overnight stop, had an attractive riverfront but, just one street back, the challenge of improving the infrastructure was evident. Light rain fell as we headed westwards up a steep hill, past people responding to the calls of atholic church bells. Cresting the top, we dropped down to the Danube and entered Eselnita, a place defined by two far-apart signposts but with no obvious settlement!
We rode along the river to Dubova, spotting a large river cruise boat and, at one stage, a hoopoe in the roadway. Dubova heralded our second climb, a two-stage affair. Part way down the first stage, progress was halted as a goatherd led his flock across our path.
We stopped at a grocery called Anne's Pantry, where an enormous Romanian speciality cake – not unlike a rumbaba – restored our energy levels. Just along the road we came to the massive rock carving of the ancient king, Decebalus, a 40–metre high monument that took 10 years to complete. It was a pretty accurate depiction of what we'll look like by the end of this trip! Further along, an ornate church occupied prime position on a river promontory.
Continuing along the river, fronted by houses and hotels that were closed for winter and often only half-built, we realized that there were no more potential lunch spots between our present and target locations. And so we had a Sunday Lunch of cashew nuts, pumpkin seeds and muesli bars sitting on a concrete barrier overlooking the river.
A headwind whipped up in the afternoon, just as the road surface became very rough. Despite the road being largely flat, our progress was laboured. Reaching Berzasca, we were pleased to find a recently-opened pizzeria where we shared a margharita over hot drinks. An attractive eco-cabin development had been constructed in the shallows just across the road; it was then only 4kms to Pensiune Sanella, our overnight stop, where a birthday party for the owner's young grandson was in full swing. Six of the young partygoers gave a slick rendition of traditional dancing before we undertook some essential maintenance on our bikes.
April 13th, 2019:
Following some bike maintenance after an excellent breakfast, we said goodbye to Bojan and headed out of Negotin on EV13. Rain was falling softly but steadily, the huge puddles evidence of heavier overnight precipitation.
After about 8kms we had our first site of the Danube and România beyond. Bojan had advised us to avoid an unmade section of EV13 – but we missed the alternative route and found ourselves on a muddy track running alongside the river. Fortunately this was short-lived and, after a couple of kilometres, the surface became smooth again. The river was bordered with mostly second homes, only the occasional house being occupied. Swallows and martins chased insects above the water surface, whilst the background song came from terns and the ever-present skylarks. Hoopoes were once again in evidence and a lone deer sprinted across the road ahead of us.
We cycled through two villages of imposing but presently-empty houses; we got the impression that in a month or so they would come to life for the summer. We kept pace with the one big barge plugging its way upstream before turning onto the main road to Koldovo. The rain was now heavier and we were relieved to find an excellent early-lunch spot in Velesnica, where my menu choice – fish chowder with skopske salad and flat breads – made up for the 'tomato' soup and 'pancake' error in Dragoman!
The rain finally stopped as we reached Koldovo, an attractive riverside town with a long pedestrianised street of cafes. Our only purpose in stopping there was to hook onto WiFi and find overnight accommodation in Orşova. Goal achieved, we crossed the Danube dam and entered Romania, marvelling at the two locks that transferred shipping in either direction.
The Romanian border staff were quite humorous, explaining that we could come back for a passport stamp 'if you ever achieve Brexit'! The road out towards Orşova was, however, pretty dangerous for cyclists. Huge trucks thundered past us as we tried to keep within a very narrow hard shoulder strip and we were relieved to arrive at our destination, which had an almost-Italianate front onto the Danube inlet within which it sat. Although it felt as though the day's ride of just under 90km had been very flat, we had climbed around 450m in getting to Orşova.
April 12th, 2019:
Zajecar – birthplace of three Roman emperors – was a hive of activity as we left the excellent Sirbija Tis hotel, an establishment where nothing seemed too much trouble for the staff. Exiting the city proved straightforward and we were soon rolling through another horticultural floodplain.
Possibly confirming the historical connection, a latter day recreation of a Roman villa on the outskirts had been abandoned as a shell! We spotted two storks in the middle of a large ploughed field and, just after, Andy caught a fleeting glimpse of a hoopoe. Our only significant climb of the day followed, a fairly stiff ascent of up to 10% taking us 250m above the valley and onto what seemed like a tableland – a wide plateau at about 300m of good agricultural land.
EV13 was well-signposted as we rode through a number of small villages, but our hopes of a morning coffee were dashed by the lack of cafes.
Light rain had been falling, but this now increased in intensity as we passed a small, recently-built chapel.
Part-way down the descent we arrived in Sipikovo, where a group of elderly people were engaged in lively conversation at the village store. We were told that it wasn't a cafe, but that they would nevertheless make us coffee. As we chatted with Julijana, an English-speaking law student managing the store for her father, a clap of thunder heralded an almighty downpour. For the next 90 minutes we sheltered, enjoying some typically-generous Serbian hospitality – free coffee served with some freshly-cooked pastries and yoghurt.
All payment was refused and the villagers waved us off with a cheery 'zbogom' (goodbye) as, by-now fully clad in waterproofs, we headed down the mountain. We had learned that there were both gold and copper mines locally, probably explaining why the river we later cycled along had a distinctive green-blue hue.
The road was also like a river, the heavy rain returned and we frequently found ourselves tackling a flooded carriage-way. Crossing and re-crossing the railway line towards Negotin, we passed a cemetery where a brass band was playing at a funeral.
It was dry for the final 10kms and, on reaching the city centre, two helpful local lads guided us to our overnight accommodation at a haven for cyclists. Our host Bojan, fluent in English and a tennis coach, described the city and its history – and then came with us to the local restaurant that he recommended. Only 66km covered on this very wet day, but we were grateful for the early night!
April 11th, 2019:
Light rain fell as we said goodbye to Milan, our friendly and helpful apartment host in Pirot. The road out along the river from this busy city of just over 30,000 people took us past the vast Tigar Tyres complex, perhaps the reason why Pirot seemed so prosperous.
Our route on the 221 was initially quite flat, with much horticultural activity in the fertile river floodplain. After about 10km, when we had stopped to don full waterproofs, we hit a steep climb over the watershed to Kalna, where we stopped for coffee – and missed two pannier-laden bikes whizzing past, clearly doing the EV13 from north to south.
The long descent to Knjazevac took us through a scenic gorge, past a waterfall with cave of obvious cultural importance. Elsewhere, the limestone cliffs were pitted with caves and road signs warned of falling rocks, the latter being much in evidence.
We arrived in Knjazevac at around 1:30pm; I wasn't allowed to choose our lunch, after the disastrous 'tomato' soup and gherkin omelette of yesterday – but the boys chose well and we were able to sit outside in the now-dry early afternoon. Steve tried out his sonic dog deterrer with great success, a notable achievement given that it had made no impact on the dogs of Anglesey in pre-trip trials.
We found accommodation in Zajecar for the equivalent of £29 including breakfast, so set out on the flat run of about 30km to the city. En route we had a tea break at the Pensioners' Club in Grijan. Stopping to switch on my rear light in the gloomy afternoon, I got chased for about 200m by four dogs – but I outpaced them……good old adrenalin!
About 5km from Zajecar, we passed a coal mine, before arriving in the city just before the return of rain. Our flattest day yet, with less than 700m of ascent, had taken us 104km along our journey home.
April 10th, 2019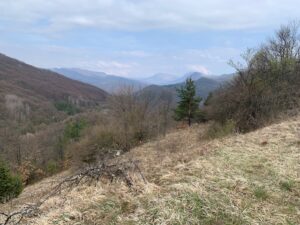 The overnight rain gave way to sunny intervals as we headed out of Tran towards Dragoman and the Serbian border. After ascending for a few kilometres on the main, but largely traffic-free, road east out of town, we turned north onto a very quiet but steep lane.
The views were spectacular, with rocky gorges and distant snowy peaks, as we passed through a number of small, mostly-abandoned settlements. Climbing out of one of these, we encountered two hares on the road, whilst the air was alive with the song of skylarks. Together with the blossom-covered trees, it felt like spring had sprung.
Original white cobbles were exposed where the asphalt top coat of the road had been worn away and, as we began the descent to Gaber , the frequent ruts and deformations proved challenging. A vast opencast minerals site on our right looked dormant – maybe the cause of the decline of the local settlements?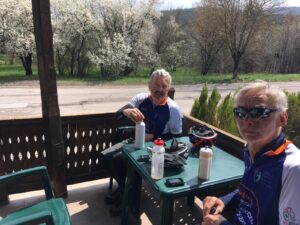 After four days of rain, coffee in the sunshine of the peaceful village of Gaber was a joy before we cycled uphill to Dragoman, where our EV13 guide book recommended that we took a short train ride to the Serbian border rather than the very busy, truck-laden main road. The railway station of this drab town was unmanned and information was scarce. Finding someone working in an adjacent office, we used google translate on his computer to establish that, unfortunately, the train service had been reduced to a single 1016am departure daily…….and it was now midday! We had some unusual soup and an omelette for lunch before heading off by bike.
As it turned out, the freewheel down to Serbia was no problem – possibly because it was lunchtime – and we had soon crossed the border. Passing the queue of trucks, stretching for a couple of kilometres,  waiting to enter Bulgaria, a sudden cry from Andy alerted us to the first EV13 route sign that we had seen.
We skirted the town of Dimitrigrad as we headed for Pirot. Again, the guide book had warned us that the road was potentially dangerous due to the volume of trucks – but more recently, a motorway had been constructed to take the commercial traffic and we enjoyed a sunny and warm afternoon's ride along the river valley to the city of Pirot.
Pirot struck us as being more affluent than the Bulgarian cities we'd visited. It also had bike lanes and many cyclists. Our overnight accommodation was a city-centre apartment, into which we were welcomed by our host, Milan. The bustling city was Ali e with people of all ages going about their business or simply enjoying a walk.
We had travelled 79kms and climbed over 750m. Interestingly, our average speed on the mostly uphill morning was 13kmh but rose to 19kmh on the mostly downhill afternoon.
April 9th, 2019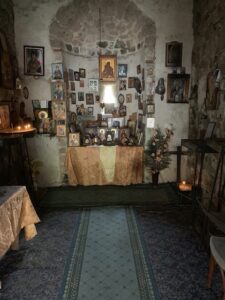 We were taught the local dialect for 'thank you' by the friendly lady running the Boboveshko cafe where we had breakfast of a Bulgarian version of ham and cheese toastie with coffee. A vast improvement on the peanuts we had for dinner, it set us up for the 40km morning ride to Kyustendil.
A pleasant run on a grey day, our route followed the Struma River through its wooded valley and occasional gorges. St Ivan's chapel, a national monument was – we were told – a one-apsis church with a narthex. We had no idea what this meant but hope that our readers will be able to enlighten us!
Arriving in Kyustendil just as the heavens opened, we found sanctuary in a central square restaurant where we had lunch. As the rain eased and eventually stopped, we headed off towards Trun – 80km away and with little by way of settlements en route. The 600m climb up towards Treklyano was taxing, particularly when heavy rain started to fall. Treklyano was something of a ghost village, with many uninhabited houses that would once have been quite elegant, causing us to wonder whether it had been in a  war zone or had suffered the collapse of some significant industry.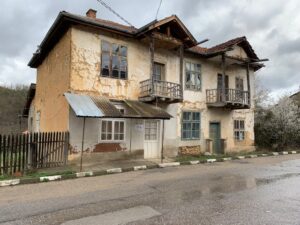 We nevertheless found a small and lively cafe, where the proprietor told us that we had a further 40km to travel to Trun. By now it was 5:30pm, so we would be arriving in the dark. Leaving the village, I shepherded a gekko safely across the road whilst, further along, Andy was photographing a family of pigs and Steve was captivated by a bedraggled donkey.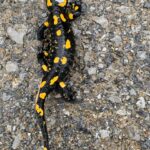 In the rain-free and cool evening we climbed steadily up a river valley. For the whole 40kms to Trun  we saw but one vehicle, a border police patrol, but were chased by a pack of dogs that followed us for a considerable distance and almost led to our first use of pepper spray.
Our arrival after nightfall, some 126kms and nearly 1400m of ascent since leaving Boboshevo , was greeted with a further downpour!

April 8th 2019
Our day started well, with breakfast served by Nikita, the amiable CEO of the Panorama Hotel. But as we left Dolcevo the rain was falling with increasing intensity and the skies looked leaden. The 11km uphill slog to the Bulgarian border took us up nearly 600m; stopping halfway at a bus shelter to shed some clothing, a group of sheltering workmen told me with broad grins that we must be mad. It was hard to disagree with them!
Getting to the border with a few Macedonian denars left in the kitty, we enjoyed hot soup and coffee in a small border cafe. Thinking that the soup was chicken, I made a clucking sound to the lady – who responded with a 'baa'.So mutton soup it was!
Dropping from 1200m down the other side of the pass in the rain was a very cold affair. The rain eased as the road flattened out…….and then the EV13 route guide went haywire. We climbed up a pleasant rural lane in the light rain, only for it to gradually peter out into a farm track. This plunged down to the river in a boulder strewn and deeply rutted descent, a threatening pack of dogs adding to the tension.
Faced with hauling the bikes back up and past the dogs, we chose the alternative of taking off our panniers and clambering over a rocky outcrop. Steve got our third puncture en route and, after changing his tube, we continued along the riverbank for about a km until we hit a road. 45 minutes later we entered the town of Boroshevo, once intended to be the provider of a late lunch but now the place where we would spend the night.
Having found overnight accommodation, a power cut meant that a hot meal was going to be an impossibility. Drying out our Bulgarian money was essential before Steve managed to get crisps, peanuts, bread, apples and bananas from a small shop just before it closed – that was going to be our dinner by torchlight!
April 7th 2019:
Not realising that North Macedonia was an hour behind Bulgaria, I was up and about far too early after a night when the city was out partying – a marching band came past in full swing at around 4am!…….well, 3am actually!
On a warm and humid morning we cycled across the floodplain of the Strumica River, discovering along the way that the vast area of polytunnels was growing not soft fruit but cabbage. Cabbage-growing on an industrial scale! Why?There were also extensive vineyards – and orchards of trees yet to blossom that we concluded were probably apples.
Then we reached the foot of the climb – that we completed 11 exhausting kms later at an average gradient of over 8%. From there to Berino, our lunch stop, we passed through wooded valleys and rocky cuttings……dropping to our lowest gear on the slightest of inclines.
The main square in Berino was alive with the noise of people socialising in the many bars. We were directed to a busy restaurant, where an excellent pizza reinvigorated our capacity for the afternoon ride to Delcevo – a town named after the revolutionary hero, Gotse Delchev, and our overnight stop. We almost broke our climbing record, ascending 1558m, and had covered 92kms.
April 6th, 2019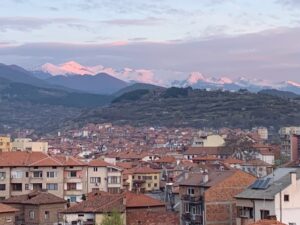 GPS took us off piste along a badly rutted farmtrack as we left Gotse Delcheve, eventually bringing us out above the town onto our intended route. We climbed for 14km in the morning sunshine, ascending 900m before the slope finally flattened. A cuckoo called clearly on the lower section, whilst an eagle soared over the hills to the south.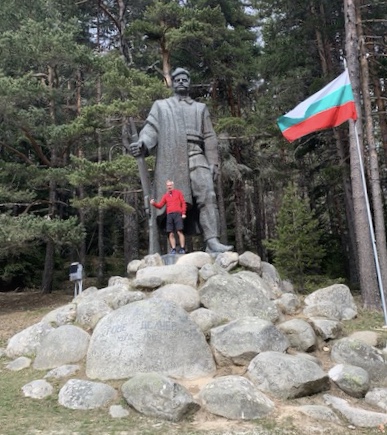 A huge statue of revolutionary hero Gotse Delcheve crowned the summit, opposite a small but richly-decorated chapel. Wild crocuses carpeted the path to the chapel, with scattered drifts of snow under the pine trees.
The summit cafe was open and, although the amiable owner had no cakes, he served us toast covered with a 1cm layer of jam, declaring it 'torta' (cake). Delicious with a coffee!
Our long cold descent was interrupted at one stage by four magnificent chestnut-coloured wild ponies straying across the road, providing an unexpected obstacle for Andy. The views were often breathtaking as we headed down towards North Macedonia along the snaking, harepinned  route; way, way below us we could see the beginnings of a fertile plain that later took us through vineyards, orchards and fields of crops.
The small villages through which we passed continued the Bulgarian feature of habitable and inhabited – but unfinished – houses; maybe the equivalent of council tax doesn't apply until the building's completed?!
Lunch was grilled trout in a fish farm, served with a Bulgarian 'skopske' salad – very similar to a Greek salad. The border crossing came up just a few kilometres later, across the middle of the widening river plain and with Greece just over the mountains to the south. The historic border defence,Simouil's  Fort, stood out amongst the hectares of ? In which soft fruit – possibly strawberries, given the Hobson's choice of jam, as we reached the exit from Bulgaria.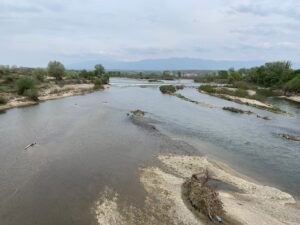 A few metres later, entering North Macedonia, I asked the friendly official if I could have my passport stamped. This was, of course, not necessary 'because you are still in the EU….at the moment' he said, with a broad grin. Then, after a quick phone call to HQ for permission, the stamp was applied!
By the time we reached Strumica  and our overnight stop it was dusk; we'd travelled 120kms and climbed 1400m.

April 5th, 2019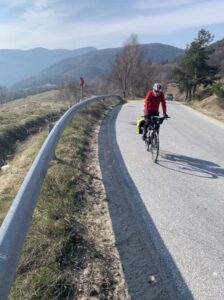 The Teshel Motel, in a nod to modernity, had made covers out of sheets into which blankets had been inserted to make quasi-duvets –  extremely comfortable and a great recycling solution. After a delicious mushroom omelet served with a far-too-small coffee, it was a steep and frosty 8km climb up to Dospat – the 700m ascent forcing us into a second breakfast at the aptly-named Relax Hotel.
Then more climbing towards Satovcha, where we had chicken soup and bread for lunch. We hadn't covered a great distance between breakfast2 and lunch but we had ascended very significantly………over 1000m! And there was more snow on the way down.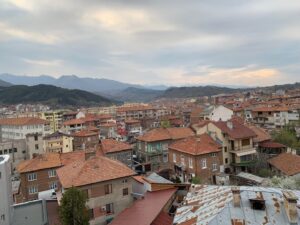 The mountain meadows were blanketed with small purple crocuses as we descended to Satovcha. More climbing past a number of sawmills and a large hydroelectric plant took us into a different valley. Limestone had by now given way to granite, crocuses to a road lined with forsythia and sawmills to stone roof and floor tile producers – production methods ranging from hand-splitting the stone through to diamond saws.
We arrived in Gotse Delchev, formerly called Nevrokop but renamed in 1951 after the local revolutionary hero, just after 5pm. Set on a wide fertile plain at about 500m, the city was ringed by snow-covered peaks stretching from the north to the west. 72km covered and another 1400m of ascent .
April 4th, 2019
The Ural Hotel in Madan provided a comfortable triple room for £20 but, with the restaurant closed in the offseason,  we had to eat out. The mosque dominating the town center swung into action at 5:25 am and, after a cafe breakfast, we headed off at around 9 am.
Our route up a wooded valley took us past sawmills and quarries as we headed for Smolyan, the highest city in Bulgaria at 1000m and a skiing center. We had a coffee in the morning sunshine before tackling the Prevala Pass, a steep 13km climb that took us up into the snow at 1700m. The road down the pass, on the north face of the mountains, had verges of packed snow; we froze!
We enjoyed a late lunch in the Alpine-looking village of Shirak Laka – including a Bulgarian speciality potato dish – before heading further down the valley. Rain began to fall…..steadily at first and then a cold downpour, as we sped past numerous fish farms and a hydroelectric plant. Lower down the valley road was thankfully dry and it felt much less cold.
We turned left and cycled through the stunning Buinovo Gorge, Bulgaria's longest, to Teshel and an overnight stop. 82km covered and 1400m climbed.
April 3rd, 2019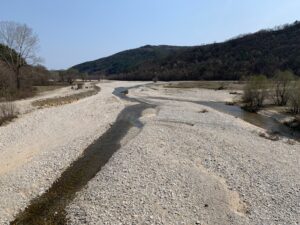 We were the only guests in Momchilgrad's Hotel Konka, a vast new and opulent building of marble and wood used primarily, we're told, for weddings. The two burly Bulgarians looking after the establishment could not have been more helpful, sorting out our evening meal and breakfast as well as giving our bikes star storage in the function suite.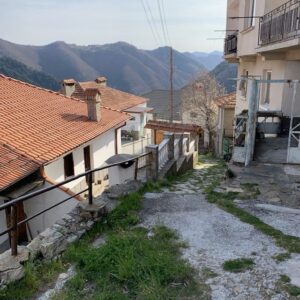 The morning ride was relatively flat, taking us through an undulating karstic limestone landscape with many oddly-shaped rocks. Many of the springs have been contained in stone structures to make collection of the mineral water easier. Cattle wandered around freely, reminiscent of India, whilst the many dogs were content with simply barking at us. We were surrounded by mountains in the cold, clear air and the only disappointment was the littered verges – it looks as though throwing waste out of vehicles is acceptable here.
After lunch in a roadside motel – the first we'd seen (motel, that is, not lunch!) – our route took  us up the valley of the  Varbitsa River, that has an enormous floodplain. We also passed a high dam, perched precariously over the valley,  that we later learned held back tailings from lead works.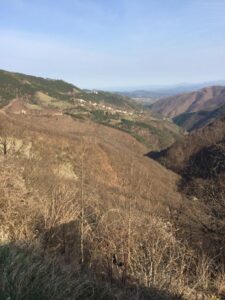 Our climb now became steeper as we headed for the town of Maden, long associated with the lead industry. We followed a gorge for 7 hard kilometres of steep climbing, eventually plunging down into Maden. We'd covered nearly 85kms
and climbed over 1600metres.
April 2nd, 2019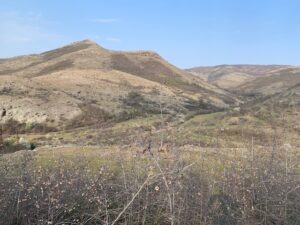 A 14km climb out of Ivaylovgrad, at an average gradient of 4.5%, warmed us up on this cool spring morning. The quiet road took us through the multitude shades of green of the mixed woodland,  though extensive roadworks resulted in spine-jarring progress on compacted gravel for many kilometres.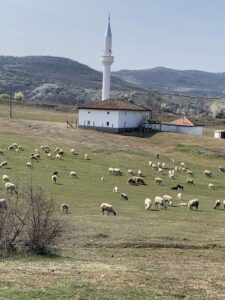 Sheep became the first grazing animals we had seen on this trip, the shepherd quickly calling his three large dogs to heel when they started showing a somewhat unhealthy interest in us cyclists. Further on, Steve had to take avoiding action as a stray bullock wandered out of the trees and across his path. Elsewhere, long trails of Processionary Moth caterpillars stretched halfway across the road.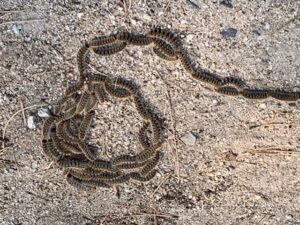 Eventually reaching the resurfaced road, we had the smoothest of descents for the 11km into Krumovgrad, where we took a late lunch. The small town of about 7,000, named after the 14th century King Krum, seemed a little run down but the owner of the cafe at which we ate was very optimistic about the town's future.
After following the River Krumovitza, we started the longest climb of the day – that turned out to be 20kms at an average 5% gradient, but with sections of up to 10%. The descent into Momchilgrad,  bordered by the hills of the Rhodopes Mountains and with some interesting rock formations, was completed just as the evening turned cold. Momchilgrad has a predominantly Turkish population, so it was no surprise to hear the call to the faithful as we entered the town. We'd covered 90kms and climbed over 1500 metres.
April 1st, 2019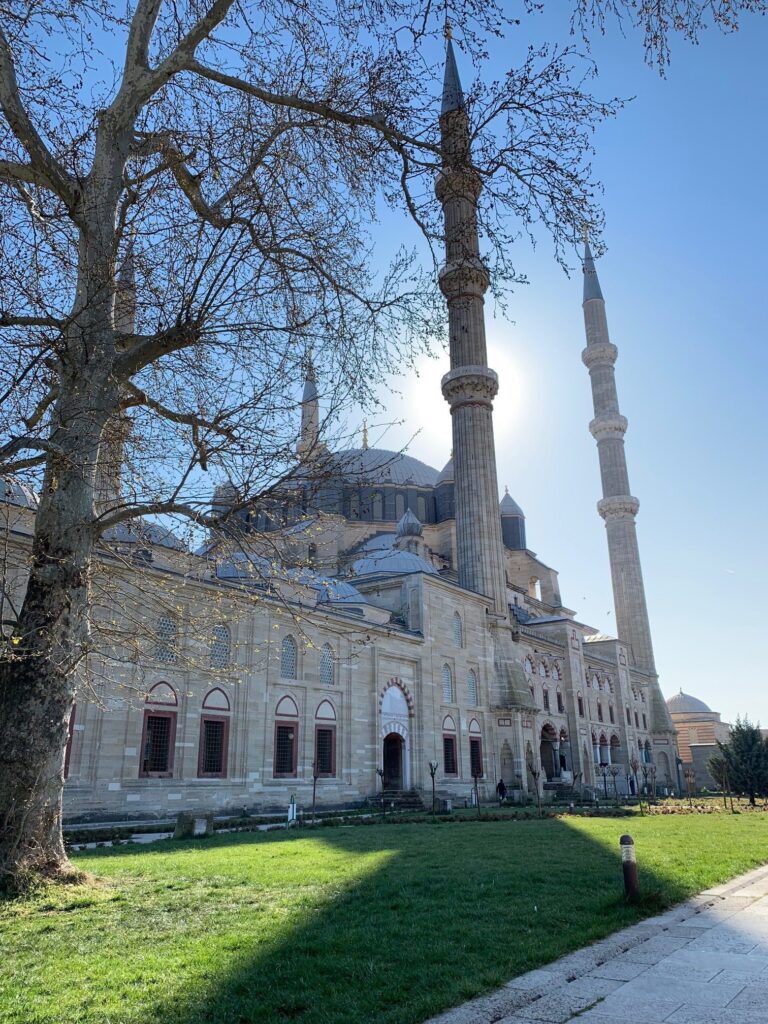 Today we had breakfast in Turkey, lunch in Greece and dinner in Bulgaria!  Before leaving Edirne, we visited the 450-year old Selimye Mosque – a superb example of classical Ottoman architecture built in only 6 years. A small garden, now a covered memorial,  embedded within the Mosque remembers a lady who didn't want to lose her treasured land to the mosque. Unlike Trump's famous spat with a Scottish crofter over his Turnberry golf course, here the imams worked with the lady to agree a mutually acceptable and eternal solution.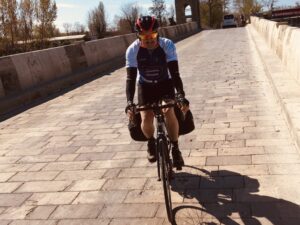 Our ride today was almost blissful, with traffic-free roads and a pleasant 22C temperature. The distance covered, at around 45km, was relatively short but covered two border crossings and much stamping of passports.
Our Greek salad lunch in a small border village was excellent, accompanied as ever by much help from local people with the language! It's striking how different the most simple words are between Turkish, Greek and Bulgarian…….. tessekur ederim, efcharisto and blagodarya for thank you!
Tonight we're in the village of Ivaylovgrad which, despite being small, has three gambling clubs – possibly due to its proximity to Greece and Turkey. We shall not be visiting them……
March 31st 2019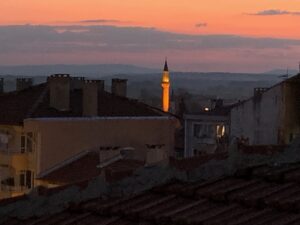 Our second day saw us crossing 128km of undulating Turkish landscape, with some long hills and a strong north easterly wind. The 7C temperature, apparently 14 degrees less than the norm for this time of year, made for a very cold morning. This eventually gave way to warm sunshine, resulting in a pleasant cycle into Edirne to end our day.
We thought we'd be starting an hour earlier, but President Erdogan  decreed a year ago  that Turkey should be in permanent summer time. It's also Election Day for municipal authorities throughout the country; this may be leading to the quieter traffic that we're pleased to see. On the road, we have yet to see any grazing cattle in the arable fields, so assume that they are kept permanently indoors, with crops (mainly wheat and rape) dominating.
The closest we came to a mishap was at lunchtime, when the owner of the Terminus Cafe at Babaeski bus station gave Andy a cuddle! It's otherwise been an uneventful slog of a day, relieved by the generally humorous misunderstandings during our encounters with cafe staff. Steve's ability to pronounce his few words of Turkish differently on each occasion that they're used continues to baffle all Turks who encounter him!
March 30th, 2019: The First Full Day Of Cycling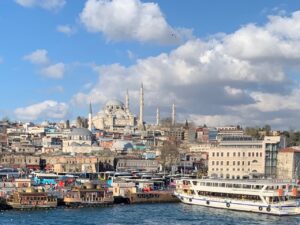 Our alarm clock was the 5:45am call to prayer from a nearby minaret, timely as we needed to be away promptly. Our optimism that an early start would beat the traffic was misplaced – the ride through the city was technically challenging and occasionally terrifying! There were, nevertheless, bonuses in the form of buildings and views, including the magnificent Blue Mosque ( above).
The patron saint of puncture-less bike rides clearly had her focus elsewhere, as I had two flats – both in the rear wheel. Hilariously – but understandably, as the first occurred before we'd had coffee – I managed to refit the duff tube that I had just removed!
We skirted the Bosphorus and Marmara Sea all morning, a strong north-eagerly wind helping us along after the slow exit through the city. Our breaks enabled us to sample local delicacies, including a tasty fruit compote that also contained haricot beans……..
By the end of the day turned inland  and reached Corlu, 120km from our starting point, although it was just getting dark as we arrived. Tomorrow we hope to get to the Greek border.
March 29th, 2019: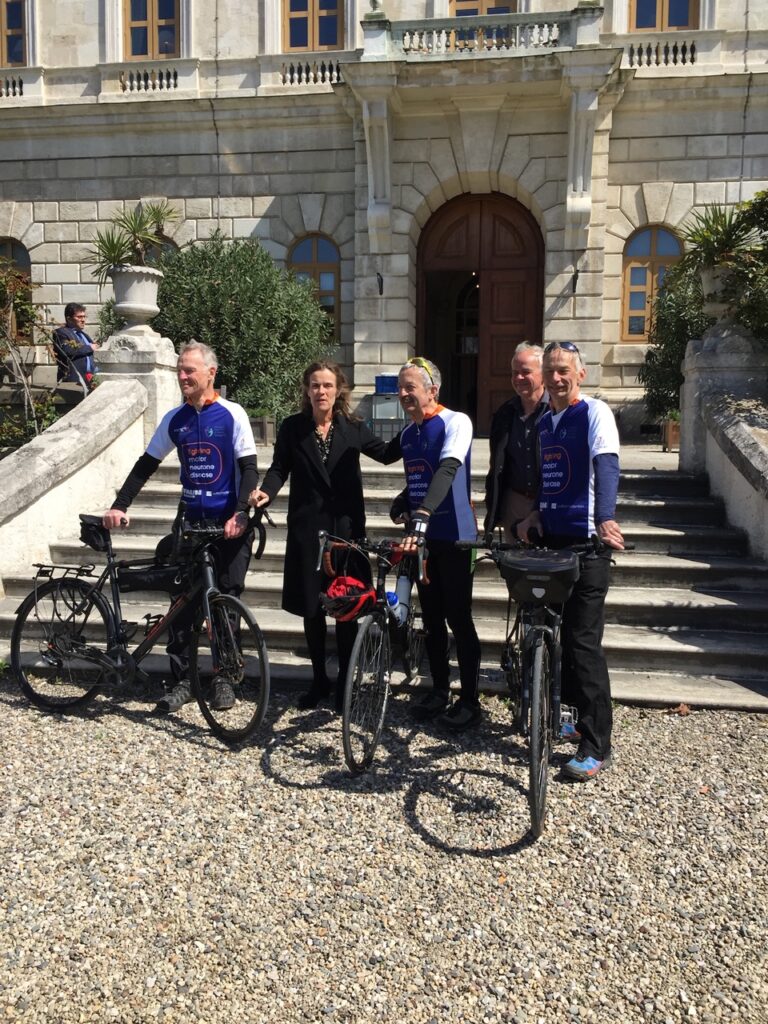 On a cold and sunny Istanbul morning, we braved the chaotic traffic to cycle to the British Consulate,  where Consul General Judith Slater gave us a send off from the garden overlooking the Golden Horn.
Following pistachio cake and coffee in one of many cafes near the waterfront, we took a ferry across the Bosphorus – cycling over the bridge is not allowed – to Asian Turkey. The very busy waterway, the only link to the Black Sea and with Sebastopol of huge significance to Russia ( a massive country with few ports that don't freeze over in winter), reminded me of Sydney or Hong Kong – ferries whizzing seemingly everywhere! Buskers entertain us on both ferry journeys – with Leonard Cohen's Allelujah a highlight!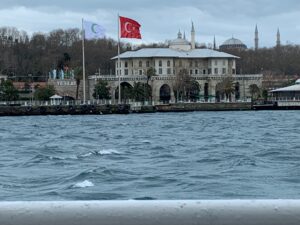 From midday, the calls to prayer from imams echoed around this city of 22m people, a reminder that we're in a culturally different place despite the presence in the city centre of all the familiar High Street shops from home.
We get back to Martin's apartment before the rush hour – a classic misnomer, as nobody's going anywhere soon – and determine our route out of the city for tomorrow.
March 28th, 2019: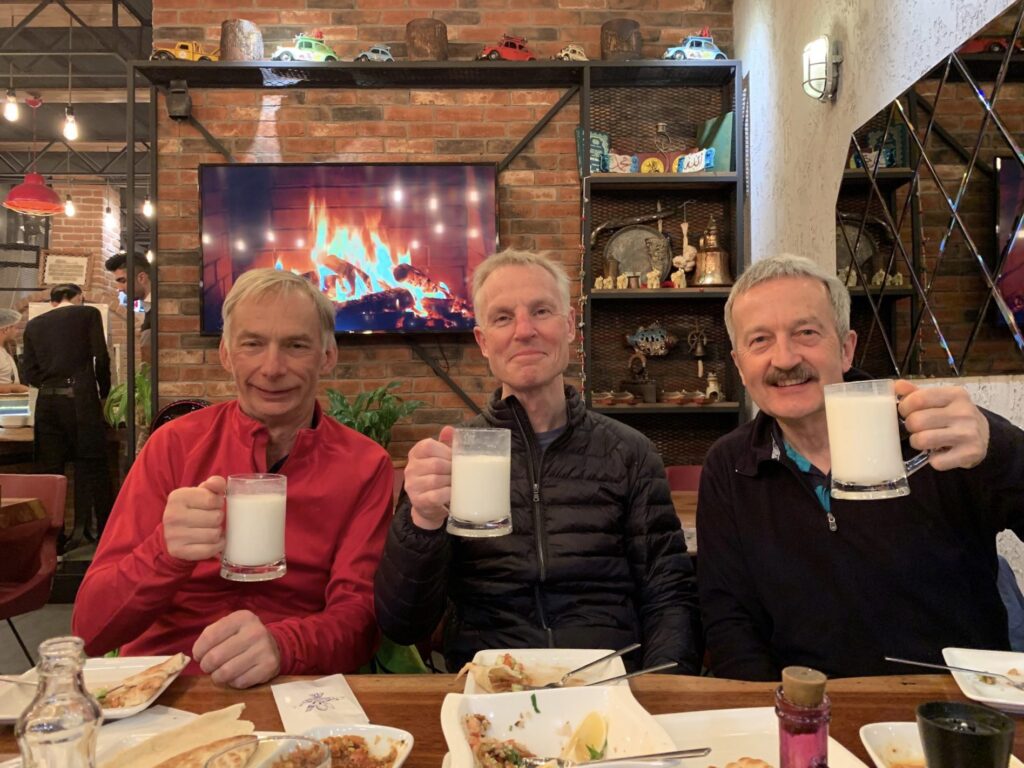 Our journey today was pretty uneventful, with just a little turbulence over the Dalmatian coast to liven up the latter stages of the flight. The first six rows in the Turkish Airlines planes were the posh seats, although the only advantage over the rest of us seemed to be their access to two toilets ( we had three between the remaining 32 rows). Brings a whole new meaning to the term 'Business Class'!
Istanbul's chaotic traffic meant that we didn't get to our overnight hosts, Helen and Martin, until 8pm. We enjoyed a late supper at a nearby restaurant, where we toasted our arrival with ayran – a delicious salted yoghurt drink. We are all set to rebuild our partially dismantled bikes in the morning and get across the Bosphorus to Asian Turkey.