The Hyper IgM Foundation Blog 
ANDREW THOMAS – HOW I MADE IT TO 54 LIVING WITH HYPER IGM SYNDROME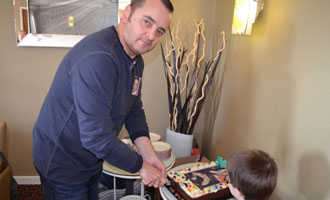 Update 1/4/2018: It is with a heavy heart that we share the sad news that our friend, role model, and hero, Andrew Thomas, passed away yesterday. After a long life with Hyper IgM (he was 54), the oldest in our community, and a hard fought battle with liver disease and cancer, he passed away peacefully surrounded by his wife, Donna, and family. May he Rest In Peace. We love you Andrew. Below is Andrew's story in his own words.
The following is the story of Andrew Thomas, one of the oldest living patients with Hyper IgM Syndrome.  Andrew is an inspiration to our whole community and an example of the resilience needed to not only live, but thrive, with Hyper IgM. We are all very thankful he has shared his story with us:   I recently turned 54, a number worth celebrating given the previous 15 months or so which contained many periods of ill-health, but also another milestone in my goal to become the oldest surviving patient with X-linked Hyper IgM (XHIGM). As I reflected on another birthday gone, I thought it would be good to share how I think I have made it this far …
One word – resilience! There are various dictionary definitions for resilience but the one I favor is "the ability to recover quickly from setbacks".  I think that sums up my approach to life, despite what it throws at me or rather what life and my condition throw at me. Life itself can throw you curve balls when you least expect them, combine that with what XHIGM can throw at you and at times it can feel like you are in a perfect storm!
I have previously written 'my story' for different websites and publications, however, a brief history is outlined below.
Born on 17 March 1963 in the small mining town of Ammanford in South West Wales I was 5th of 6 children raised in a 3-bedroom council house (it was very cosy) and my father was a coal miner and my mother a housewife.
The first 6 months or so were infection free, but the next 12 months were characterised by infection after infection, which in turn meant I avoided having any of the live vaccines that were common in those days. My family doctor (GP) had been at a conference where he had heard about a new condition that had been diagnosed, Brutons disease, which affected the immune system. On the off chance that this was the reason for my continued ill-health he sent a blood sample to be analysed and the result was I was diagnosed with Hypogammaglobulinemia, the first to be diagnosed in my part of the world and coincidentally the same diagnosis as my cousin Peter who was born 14 days later than me on 31st March 1963. It was much later that this was diagnosed as XHIGM, once more become known about the different immunodeficiencies.
The first 13 -14 years of my life were characterized with infection after infection, I was trialled on many different medications as well as my weekly intramuscular dose of gamma globulin the precursor for today's intravenous and sub-cutaneous immunoglobulin replacement therapies.
Something worked, whether it was the early diagnosis and treatment from a young age, the different medications I was given, the support of the local medics, the support of my family, my own resilience, the onset of puberty, or a combination of these, as from my early teens many of the issues I had when I was young became more manageable. I still had chest infections, stomach upsets, abscesses on my legs and back, etc. but was able to eat ok without feeling nauseous and the swollen limbs that plagued my early years didn't swell any more. Conversely my cousin Peter, who was particularly well in his early years found that when he reached his teens his health began to become really poor.
I left school with enough qualifications to get a place in Liverpool Polytechnic to study Applied Biology – my earlier dreams of becoming a doctor to find a cure for the disease were dashed – and it was a great 4 years of partying study.  Actually it was 5 years as I had to re-sit my first year as I hadn't understood the impact of being from home for the first time and the effect it would have on my health (that and the partying/workload/sharing with other students).
My career started in the chemical industry and has been varied and I eventually achieved a role of Group Head of Health, Safety and Wellbeing, which was reward for my resilience, the hard work I put in and taking the opportunities which came my way. In the main, I have been lucky with my work in that I have had supportive managers along the way who have encouraged me to achieve rather than look at the time I have to take off for ill-health, hospital appointments, hospital admissions, etc. I realise from my work with the now defunct Primary Immunodeficiency  Association (PIA) and with the current UK charity supporting PID patients Primary Immunodeficiency UK (PID UK) that others have not been so fortunate.  Don't get me wrong, I have had my challenges, and even went self-employed for 9 years to try and manage my health and work, but in the main have been well supported.
Another important factor which can't be underestimated is the medical support I have had. From the GP who first sent my blood off to be tested, the paediatrician I was under in Wales until the age of 21, to the Immunology Department at Addenbrooke's Hospital, Cambridge I have received excellent support.
One thing I particularly enjoy is sharing my experience of living with a primary immunodeficiency with a specific focus on my life with XHIGM. Over the past 2 years I have spoken at patient events, to a pharmaceutical company, to a meeting of medics about a recent patient survey PID UK carried out, and at the last National Immunoglobulin Database meeting in London. I am also chair of the Patient Representative Panel for PID UK, and a patient rep on the Immunology Governance meeting at Addenbrooke's Hospital. I am a great believer in patients having a voice as we know how we feel and experience the condition(s) so are the ones with the knowledge. My ambition is to set up a support group for PID patients in the Eastern Region, to support others as well as their families living with these conditions.
Family is hugely important to me, not just the love and support I have received but also the fact I come from a large family and have at the last count 35 nephews and nieces! I am very proud to be a Great Uncle to 18 Great Nephews/Nieces even though there is hardly a month without a birthday and Christmas can be expensive!
I have included a few pictures (below) of me as a baby, age 8 when I had a particularly bad year, as a teenager with my first nephew, and more recent photos. The reason I have done this is to show how 'normal' I look, and sometimes this is an issue as I have lost count of the number of times I have been told 'you don't look ill', which I take as a compliment but does get a bit galling when you are explaining to a new medic, manager, colleague or friend about your condition.
Finally, here's to celebrating my 55th next March J!
For more Faces of Hyper IgM Syndrome Check out this clip: