The Hyper IgM Foundation Blog 
MOVING FUNDRAISER CREATED BY MOM IN HONOR OF SON WHO LOST FIGHT TO HYPER IGM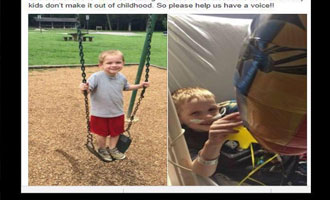 This past Giving Tuesday, Savannah Phillips wanted to find a way to honor her son, Kobe Jordan, whose life was cut short by Hyper IgM Syndrome. Savannah joined other Hyper IgM families around the world in creating her own fundraising campaign for the Foundation to help find a cure for Hyper IgM. Here are her own words, telling her son's story:
My son Kobe Jordan had this horrible disease. It ultimately lead to his passing away June 11, 2016. He was a beautiful happy boy. Diagnosis came at 9 months of age after several months in the hospital because the condition is so rare none of the doctors knew to test for it. Only 1 in 1,000,000 boys are diagnosed yearly globally. The life span is 24 years of age if the patient is lucky. Many don't make it out of childhood. The only potential cure is a bone marrow transplant and even that isn't 100% guaranteed. The disease itself is severely understudied and is in desperate need of awareness, research, and finding a cure. My little boy caught strep throat and 5 weeks later passed away because of his disease, his body couldn't fight it off and it turned into a rare form of pneumonia. He was 7 years old. I'm raising money on #givingtuesday in his honor for this foundation. All proceeds will go directly to the foundation for research awareness education, finding a cure and to help improving quality of life for those who have it. The gates foundation will match what each of us raise up to 50,000$ per charity today so let's all get th word out and show them just how loud a voice we have!! If you aren't able to donate, that's fine but even a share only takes a second!!
Her friends and family started to share her fundraiser, hoping to expand the reach of Kobe's story and raise awareness. One friend, Misty Watson, went so far as to create a touching tribute for Kobe, encouraging people to contribute donations to this important cause. See here:
Savannah's fundraiser ends on December 31. We hope you can help Savannah reach her goal.
To find Savannah's fundraiser and help us raise money to find a cure for Hyper IgM Syndrome see here: