The Hyper IgM Foundation Blog 
HAPPY HOLIDAYS & HAPPY NEW YEAR 2018!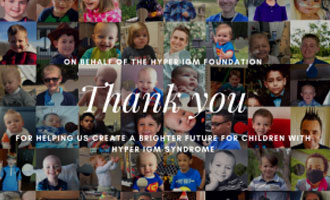 On behalf of the whole Hyper IgM community, I wanted to thank you for all your support for our cause this year. With your help, we are building a brighter future for all children and families with Hyper IgM Syndrome. Giving Tuesday was a great success, and we left the fundraisers for end-of-year giving open.
Your support this year has enabled the Foundation to fund cutting-edge Gene Editing research into a cure for Hyper IgM Syndrome. We also continue our global outreach program to connect, educate, and empower all patients with Hyper IgM Syndrome. We have reached families in over 22 countries around the world, not bad for a one-in-a-million rare disease!
We have great plans for 2018, including expanding our funding to Gene Editing research as well as labs focused on understanding Hyper IgM Syndrome better on a molecular basis, hopefully leading to better outcomes in transplants.
We hope you can still join us this year in support of our cause. Donations can be made to any of the Facebook Fundraisers (zero platform fee) or on our website or through the PayPal Giving Fund.
Wishing you a Happy and Healthy Holiday season and Happy New Year!
Sincerely
Akiva