The Hyper IgM Foundation Blog 
THE HILL FAMILY LAUNCH INNOVATIVE FUNDRAISING CAMPAIGN FOR THE HYPER IGM FOUNDATION- ONE SHAVE TO SAVE – RAISED OVER $7,000!
Aug 15, 2017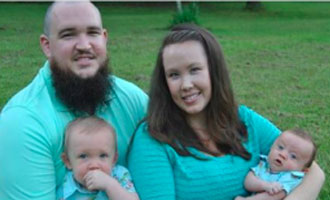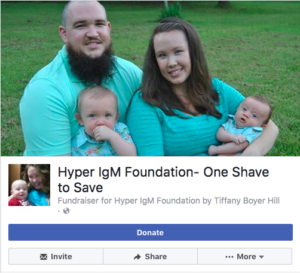 The Hill Family launched an innovative fundraising campaign this month for The Hyper IgM Foundation called One Shave to Save. Parents of two boys who had Hyper IgM Syndrome, the Joshua and Tiffany Hill have had quite the journey in the last few years with Hyper IgM. Oliver, who is almost four had a bone marrow transplant a couple years ago and is doing great. Their youngest son, Liam, was just a baby when he passed away following complications from a bone marrow transplant in 2016. Throughout all this, the one constant in their lives has been the dad, Joshua's, five-year-old beard. Both boys found such comfort and joy playing with his beard. Whether it was when Oliver was intubated in the ICU when he was first diagnosed or during his transplant, the beard was their anchor.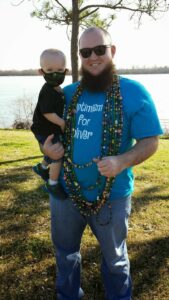 This month Joshua and Tiffany were deciding how they a help raise awareness and support for the Hyper IgM Foundation and all the work the Foundation does for the families and in search for a cure. Joshua volunteered to shave his beard if they met their fundraiser goal, and to do it LIVE ON FACEBOOK! So they launched the campaign and spread the word about their One Shave to Save campaign. Tiffany has been writing daily updates telling the family's story with Hyper IgM Syndrome. We have included her updates from the campaign below by date and will keep updating them as they go live. We are hoping they meet their fundraiser goal by Saturday the 19th, and we hope you all can tune in to live on Facebook to watch the father shave his beard. We will Share the live feed on the Hyper IgM Foundation's Facebook page when they go live on Saturday.
Watch part 1 of 2 of Joshua's Facebook Live Shave to Save Fundraiser for the Hyper IgM Foundation: 
Watch part 2 of 2 of Joshua's Facebook Live Shave to Save Fundraiser for the Hyper IgM Foundation: 
Joshua used the Phillips Norelco OneBlade for the Live Facebook Shave and even got the attention of the Phillips Norelco brand:
Here is a link to the Fundraising Campaign and below are Tiffany's daily updates
August 18th: Hi everyone, we are ONLY $915 away from our goal!! Let's push hard these last 24 HOURS to make this One Shave to Save happen! We are extremely appreciate of all the donations and support!!! Please LIKE, SHARE and INVITE all your friends.
Let us finish up our posts about our journey…..we were back inpatient with Liam having GVHD and CMV. He started on a series of medication and steroids to try to get rid of them both. Overall, he was fine and doing okay, and the CMV would go down in count, but then would jump back up. He responded well to appetite stimulant and seemed to be eating better and gaining some weight back. The GVHD was difficult to manage and would seem better one day, but then would go back to causing some issues. It usually presented as Liam being nauseous and having uncomfortable bowel movements, and bad diaper rash. He was still a happy boy, and was so resilient. Just as we had to do with Oliver, we celebrated Liams first birthday inpatient. Because of his restrictions we couldn't have a cake made or any party, but he still got (sterile and sanitized) gifts and we got to FaceTime with family. He was happy, but we started noticing swelling and he had a tremor that he didn't have before. We demanded to speak to specialist, but there was never a definitive answer. We opted to keep him on morphine to minimize any discomfort he would have with bowel movements or from the weight gain. He started gaining weight very fast, and diuretics stopped working, his kidney levels started rising and he started to go into renal failure due to the toxicity of the medicine he had to have to fight the CMV. He wouldn't cry, but wanted to cuddle and was still his happy self….but he seemed more tired and less energetic. Joshua and I would just lay with him, cuddle him and never left his side. He would hold daddys beard, and cuddle right into it…..it was his security blanket.
Eventually the fluid gain affected his breathing and he had to be placed in PICU on a ventilator and dialysis. He had almost doubled in size due to all the fluid that his body was retaining, and it was a balance of giving him his medicine for CMV because it would be adding more fluids, and dialysis could only remove so much. It was a constant give and take and trying to find a happy medium. One of the days, his stats started dropping, so I yelled for the nurse….he started coding, turning blue. They brought a crash cart in and started trying to work on him to figure out what was going on. It was terrifying to watch our baby code, and not be able to do anything. Luckily, it was just a clot of tissue in his airway tube, and they just replaced it . We remained in PICU for about a month and a half. It came to a point where everyone thought he was doing better and he was able to be removed from the ventilator and we were able to hold him again. We would rotate nights for one of us to stay upstairs with Liam, and rotating throughout the day so we could both be with him. Every week was a roller coaster; one day he seemed to be improving and his viral load would drop, then a couple days later he would worsen. It's hard to truly summarize everything thay was going on, it was alot and a very harsh learning curve for us. Ultimately, things got worse, he developed ( what they thought) was a heart irregularity, and other issues, and they couldn't understand why things weren't getting better especially since he was on dialysis constantly. He started to have lesions on his skin, that they thought could be fungus so they took two different biopsies to test and try to figure out what it was. We were informed by doctors that he was getting worse, and while it wasn't certain, that we may want to call in family just in case. Alot of our family flew in, and that evening he actually seemed to be doing better. All the family rotated turns visiting, and Joshua stayed all night with him. The next morning Joshua and I stayed with him, playing music as we always did to keep the mood upbeat, and so he could hear something other than machines. I decided to go with my mom to get something to eat really quick, and Joshuacalled to let me know ( after some events) that Liam wasn't doing well and they were going to have to start on the second of three medicines available to help his heart/blood pressure. As soon as I got to the room, they started the second medicine……and it didn't help, his stats continued dropping, and we were told to go bedside. WAIT, WHAT ???? In pure shock and denial….What's happening…we rescinded our DNR so they could try to save him. After a couple minutes and no changes, we told them to stop. It's excruciatingly painful to lose a child, but to sit there and watch is a nightmare that we can never wake up from. We wouldn't have wanted to be anywhere else, and would always chose to be there with him, but it hurts so deeply. We just held him, and Joshua made them remove everything so he could look like our perfect baby boy again, so we could give him his final bath. ( We had opted for the autopsy because the doctors still weren't sure why this had happened, and it turned out that he a fungus called Scopulariopsis brumptii. Which has an incredibly high mortality rate in immunocompromised patients. Most of his internal body was covered in the fungus, and this is what his doctor think cause all the problems. Because shockingly, they didn't detect any CMV and no GVHD).
We waited in NOLA until Liam was released after autopsy, then all the family traveled back up to our house in Grand Cane, LA. Joshua and I were faced with planning our 13 month old funeral, with no life insurance to top it off. We decided that we couldnt live in that house anymore, so our family helped us pack up our house so we could move back to Phoenix, AZ where we had a larger support network.
I can't possibly describe what it feels like to watch your child pass, to hold them for the very last time, and know that you won't get to do that again. Our hearts were shattered, we literally had chest pains, and our bodies hurt: we yearned to hold our baby boy again. Next to losing our son, the next most painful thing was to explain to Oliver (only 2.5 years at the time) that his baby brother is gone, that he's now an angel. Then, watch him, at the services, try to play with his baby brother that he thinks is just sleeping in his casket. It's quite literally a nightmare, a gut wrenching, tear inducing nightmare that never gets erased from our minds.
Liams memory is kept alive, and we have pictures of him everywhere and talk of him every day. Oliver constantly talks about him and asks where he is, and says that he wanted him to stay. Everything in life has become bittersweet. Every sweet memory that is made now suddenly becomes another event that Liam will miss, something he should have been here for. And every memory that is reflected on is extremely difficult to relive, yet sweet to have such wonderful times to reflect on.
A few years ago, we didnt know what Hyper IgM was or the affects it has on families all over the world. Now, two transplants, almost losing one son, actually losing our other son and a whole lot of hospital time later, we have two miracle boys that are cured from Hyper IgM; one in heaven and one on Earth. Hyper IgM has taken so much from our boys and family, and we will spend the rest of our lives wondering who Liam would be, what he would be doing, and what could have been. That's why this fundraiser and the Hyper IgM Foundation are so important to us. They are so close to finding cures for Hyper IgM, and every bit of funding helps make a cure become closer to reality. We want to Save any more families from these horrors of seeing their children in the hospital , or even worse, watching them pass away. Please help us reach our goal for ONE SHAVE TO SAVE and support a foundation that is truly trying to make a difference.

August 17th: ONLY 2 DAYS LEFT!!! Thank you for all the support, we are getting close to our goal!! Everyone please consider donating ….every dollar helps. If you cant, no problem, please just help us out by hitting the LIKE and SHARE button and inviting your friends! Lets make this One Shave to Save happen!!! All funds go directly to Hyper IgM Foundation. For now, to continue our story….
We enjoyed our months with the boys, our fun visits with family, the holidays, and a perfect Christmas. We moved to New Orleans, and began chemotherapy for the transplant. Liam had a reaction to the campath, but he soldiered through and did great. The other chemotherapies were hard on his little body, but he always kept a smile and other than being nauseous and loss of appetite- he seemed to do really well. This was an exceptionally difficult time as parents because Oliver was not allowed in transplant room at all. He could only visit Liam through the glass window in the door, and one of us had to be with each of them 24/7. When our boys stayed in the hospital….we stayed in the hospital. Anytime we were in the transplant room, we had to have full mask and gloves. There was no running water allowed in the room, so if we needed to use the restroom we had to take all the gear off, go to the family restroom down the hall, and then gear back up to come back in the room. It was especially tough because Liam wanted the comfort of being in our arms and kept company at all times, so it was hard to leave the room. You aren't allowed to eat or drink in the room, everything has to be sterilized or sanitized before entering the transplant room. We were obsessed with keeping everything wiped down and sanitized from the beds, chairs, walls, door handles and down to the floor. It's intense, and was challenging to say the least. When transplant day came, we both were there with Liam. Joshua held Liam as he received the new cells that would hopefully become his cure, all the while Liam held on to daddy and his beard. He did really well in the following days….so well in fact, that he was released just 11 days post transplant!!! We were released back to the trailer, and had to attend daily clinic. We still kept everything extremely clean and sanitized in the trailer and didn't take Liam out without his mask and not in crowded places. We enjoyed a little over a month out of the hospital, and Liam was doing well except we noticed him not having much of an appetite, and some grunting with bowel movements. He would develop a crazy diaper rash no matter what we did, and it was hard for him to keep much of anything down. He started to lose weight, so the doctor wanted to sedate him and do endoscopy test to see if there was an issue. Meanwhile, his blood work came back and he was positive for CMV. During the test, they discovered he had mild graft versus host disease (GVHD) of the gut ( gastrointestinal tract) . GVHD can be vary between very mild, hardly any symptoms all the way to death. It's extremely scary, and one of the most common risks in bone marrow/stem cell transplants. Overall, Liam was doing well as far as the success of the transplant, as he had 99 percent donor cells. However, these two discoveries would cause more issues than we anticipated……stay tuned for more!!!

August 16th: You all are awesome!!! We are getting so close to goal! Only a few more days!!! Please LIKE, SHARE and INVITE all your friends!!
Once we got out of the hospital in May, things went pretty well. Oliver still had to go for check ups every month or so, and Liam had to go every month for IVIG infusions to keep him healthy, which it did. They both were doing very well, and we made a trip out to Arizona to visit family, and celebrate Oliver's 2nd birthday. Liam continued to thrive and do well, and was nothing but happy and easy going. We enjoyed several months of as close to normal as we could get. Liam was growing so fast, and learning new things every day. He was so in love with his older brother, and loved playing with him and watching him be crazy. Joshua continued working his electrician job as well as we kept our business running, but he was always present with the boys. They would all lay and play in the floor, and they would always end up grabbing his beard!
Some of our wonderful family from Oklahoma came and enjoyed some holidays with us, and we had an absolutely perfect Christmas with both of our boys. We went and picked out a beautiful Christmas tree together, decorated it with the special ornaments we got for the boys. We did it all, made handprint ornaments , made cookies, had hot cocoa, listened to holiday music…everything. It's the most perfect Christmas I think I've ever had. Our first Christmas with kids, we had spent in an RV because Oliver had just gone through transplant. So being in our own home, was a gift in itself. They boys got everything they wanted and then some. All our family sent them gifts, and they had so much fun.
Immediately following Christmas, we had to move down to New Orleans, and we had to start preparing for that. Luckily Lisa, Tiffanys mom, was extremely supportive and allowed us to take her travel trailer down there to live in this time. We moved just a couple days after the holidays, and started preparing for transplant. Liam had to have all sorts of tests, kidney test and blood work done, as well as a lumbar puncture to test his bone marrow , and a central line put it. He did great, was strong, resilient and didn't have any complications, but it was tough watching our baby go thru all of that. We had to keep reminding ourselves.. It's for the greater good, for a lifelong cure. But it still hurt us, just as it did with Oliver, so see him go thru all of this. We were thankful to be able to be there as a family though (beard and all), and to have a business that helped take care of us while we prepares to live down in New Orleans for several months again.

August 15th: ONLY 5 DAYS LEFT!! Let's make the One Shave to Save happen, please LIKE, SHARE and INVITE your friends. We will have a LIVE shave off on Saturday August 19th at 4pm Arizona time.

To continue our story, we have to take a little but of a step back. Prepare yourself, theres alot that happens in this post. Before Oliver began transplant, just a few months after getting out of the PICU , we learned that I was pregnant. Against the odds, and when it really shouldn't have been able to happen, we found out we would be having another baby. We also found out about the same time, that I was in fact a carrier of this Hyper IgM, and had a 50 percent chance of passing it on to our kids. It was terrifying learning this, knowing I was pregnant again, and we hadn't even started transplant for Oliver. But, we knew this was a gift and other than some constant nausea for the first two trimesters, the pregnancy went really well. We had Oliver's transplant in October of 2014, and remained in New Orleans until March of 2015. We went back home and had Liam Hayden Hill on April 9th, 2015. The timing was chaotic, yet as perfect as it could have been given all the circumstances. He was healthy, beautiful, and Joshua got to be there for it all and the first to hold him.

Earlier in the pregnancy we opted to wait to test him for Hyper IgM until after birth, as the outcome wouldn't have changed anything for us in terms of pregnancy . Unfortunately, we found out he was affected by Hyper IgM and would also need a transplant….but until transplant he would stay on monthly IVIG infusions and bactrim (antibiotic) to keep him from ending up in the PICU , like his brother. He also got plenty of antibodies from breastfeeding, and we limited his exposure to crowded places and new people just to be safe. While this wasn't uncharted territory to us, it was daunting to think about going back into transplant, when we were still doing monthly visits for Oliver's post transplant follow ups. On top of all of that, Oliver got a very scary infection in his central line and back to New Orleans we went…with a new born. Joshua was set to start another job on top of running the business, to help with finances, and had to be back at home in a couple days or he would lose his position. So against what we both wanted, Joshua (and the beard) headed back home to work, and I was left isolated in the hospital with a 19 month old and a 3 week old baby. During this stay, Oliver experienced an extremely traumatizing event of having his central line pulled from his body with only morphine and local lidocaine ….it took me and 3 nurses to hold him down. The line had caught in the IV pole and broke, but it broke in a place where there was no clamp or way of closing the line. Meaning, it was an open line going in his body right to above his heart, and nothing to stop the flow of blood. He had bled all over the bed and I just had to apply pressure and call for nurse so she could clamp it off. It was extremely upsetting and scary to say the least. We both were in tears afterwards.

Aside, from the obvious struggles that come with being inpatient with two very young boys, we seemed to have our fair share of other difficulties arise. Joshua and I were separated for his 30th birthday, and my first mother's day with both boys . My grandmother also passed away , and we were unable to go back for services or anything, which was exceptionally difficult because Joshua and Iwere so close to her. Joshua was doing everything he could to provide for our family, and it was extremely painful for us to be apart during this time. He had been there for everything, every day, until now, and I know it hurt his heart. He's made so many sacrifices for our family, that I can't begin to express how much I respect and admire him, as a father, husband and an all around stand up MAN. As challenging as it was for me to be there with the boys, I know it pained him more to not be able to be there, and I'm eternally grateful to have such a strong, dedicated family man, as my husband and best friend.

It seems silly to some, but Joshuas beard represents these same things ….strength, determination, comfort, dedication. The beard itself is just hair, but it has symbolized a constant for us in the past 5 to 6 years of chaos and heartbreak. It's a big deal for Joshua to agree to shave it off….but he wanted to do it in a way that it would mean something. So please, help us make it happen!!
August 14th: Only 6 days left!!!! We are over half way to our goal, so please klike, share and invite all your friends! One Shave to Save is determined to make this happen. We will have a LIVE shave off on Saturday August 19th, if we reach our goal!!!
Sooo….After much deliberation and research, we had decided to move forward with the transplant. It wouldn't be easy, but hopefully, it would be worth it for Oliver to have a lifelong cure. We met with the doctors in New Orleans Children's Hospital ( CHNOLA) and got the game plan and schedule together. Because we lived 5 +hours away, we were told we would need to relocate for the transplant and at least 100 days post transplant, depending on his progress. We were lucky enough that Joshua's grandparents let us take their RV down there to live in, on hospital grounds, for as long as we needed.
It was quickly discovered during pre transplant work up that Oliver had cytomegalovirus ( CMV) which is quite common, but if not under control prior to transplant, it could cause major complications, even death since he would be completely immunocompromised. We spent a few weeks inpatient, including Oliver's first birthday, so he could get multiple infusions each day, to attempt to get the CMV to zero or as close as possible. His CMV got under control, so they proceeded with transplant when he was only 13 months old. He handled the intense chemotherapy very well, but his CMV flared up tremendously ( counts were over 1.5 million at one point ) causing our stay to be 9 weeks inpatient. While he didn't seem to have many symptoms, we knew it was a scary position to be in for him to have a virus at this stage. Eventually, we got discharged but had to attend clinic every single day for months, so that he could continue infusions to keep CMV at bay. He had to wear a mask everywhere, and we had to sanitize and clean everything to keep him from getting sick. We learned how to give infusions on our own, clean his central line and change the dressing on it, and had to administer up to 16 doses of medicine each day. It was a harsh learning curve for us. But he was amazing, and did incredibly. He reached the 100 days post transplant milestone without graft versus host disease, or any other major complications. Oliver was doing great, and nothing was slowing him down.
All this time, Joshua, the Beard, and myself were there every day, every hour for our baby boy. We did our best to manage our business from afar and had the help of family and friends when we needed it. Stay tuned to find out more…we aren't done yet….
Please like and share!
August 13th: We were extremely fortunate to have an incredible immunologist that was able to discover Oliver had Hyper IgM syndrome after a very risky bronchoscopy. Once it was discovered his pneumonia was PCP they switched his medicine and he improved rapidly. His settings on the ventilator were able to be decreased, and he slowly started to wake. Oliver was on enough sedation for a grown man, and it still wasn't enough to keep him asleep, so we just had to make she he didn't move around too much while he was still intubated. One of the first things he did when he woke up, was reach for daddy's beard and face. We were ablr to hold him for the first time in nearly a month. After a week or so, we were able to get him off the ventilator, and then flown back to the PICU in Shreveport, to the nurses and doctor that we grew to love so much.
We remained in the hospital in shreveport for another couple weeks, and we finally got released to go back home on May 10th, Joshuas birthday! While we were ecstatic to have our baby boy in our arms, and headed home….we were terrified underneath all the smiles. Extremely grateful for our sons life , but then faced with the fact that his average lifespan with his diagnosis was lucky to be in his twenties. If lucky enough to live that long, there was no guarantee that he would have a good quality of life because his body was unable to fight off any infection, which could be something like a cold, or even cancer. He would have to get weekly or monthly IV infusions for the rest of his life, and always have to take antibiotics, just in case. The only long term, permanent cure was a bone marrow/stem cell transplant. It sounds like an easy decision, but transplants require intense chemotherapy, months of inpatient stays, and the mortality rate is around 10 percent (higher depending on circumstances).This wasn't a decision we took lightly, and it was extremely difficult. Stay tuned for more….
Please like, share, and invite your friends. One Shave to Save want a to help the Hyper IgM Foundation work towards it's ultimate goal of finding a cure, other than transplant, for these special individuals born with Hyper IgM. The Foundation also supports Hyper IgM families and helps raise awareness on this extremely rare condition.

August 12th: Oliver remained on a ventilator , and after a little over a week, and despite a false alarm that he may be able to be removed from ventilator…. he progressively got worse. They put him on a more intense ventilator, oscillator machine, and he didn't get better. It was still a mystery as to why his pneumonia wasnt getting better. They life flighted him to Little Rock Children's Hospital where they thought he would need to be on ECMO, which would have been the end of the line option… We were faced with the possibility of losing our first born son. Just a couple weeks earlier we thought he may have a bad cold or infection and felt bad that he may need a shot or blood drawn. And then, we were watching him fight for his life, getting central/picc lines put in his tiny body, and being hooked up to all these machines. We called in family knowing that it was bad….and waited to see what they could figure out in the new hospital. We left our home and business to go stay with our baby in another state, and some wonderful family and friends came to support us, and also take our dogs so we didn't have to stress. In this picture you can see daddy, and the beard, standing bedside right before he got airlifted. We told him to keep fighting, that we were there and loved him.This was one of the many difficult times we have faced in the past few years…the feeling of fear and heartbreak is still fresh when we look back on these type of pictures. Please consider donating, and even liking and sharing this post so we can work towards a cure so that we can save families from having to experience events like this due to Hyper IgM. One Shave to Save!!!!

 August 10th: This is April 7th, 2014. We had been going in to the pediatrician for a few appointments because Oliver was a little more lethargic than usual. This was the day Oliver got an XRAY and they discovered his lungs were whited out with pneumonia. They drew some blood for more tests and as we sat in the room…while being held by mommy, Oliver became even more pale, his lips blue, and his oxygen level read at 37 percent . They called the paramedics, and quickly got him on oxygen. M

ommy and Oliver were rushed to the ER in an ambulance , while daddy had to frantically follow us by himself, all while trying to wrap our minds around what was happening. We were quickly transferred to PICU , and that night he was intubated because his oxygen kept dropping and his respirations were between 80 and 90 times a MINUTE! It was ….at that time…the scariest thing we had been thru. Stay tuned to hear the rest of the story….and more pictures of the Beard along our journey.
Please like and share! We want to raise awareness in a unique way, and help contribute to a good cause….contribute to savings lives ultimately! One Shave to Save is the perfect starting place to help make positive changes.

August 8th: Oliver was only a few months old, and already had a love for the beard. He seemed to think it was the best way to make daddy do what he wanted….it worked. Stay tuned for more adorable pics and info about our crazy journey ….
Please like and share the Hyper IgM Foundation-One Shave to Save! We really appreciate all the love and support.

August 7th: Here we were, the Beard and all…blissfully unaware of all the difficulties we would face in the unpcoming years. One Shave to Save isn't only about shaving a beard that's been a part of our lives the past 5 years, its about potentially curing those living with Hyper IgM, and hopefully having a future where Hyper IgM doesn't affect any more of our loves ones.
While it symbolizes much more than just a beard to our family, it pales in comparison to the mission of the Hyper IgM Foundation. This Foudation' s ultimate goal, as well as all the Hyper IgM family, is to find a cure! But it requires funding for anything to transpire , and because Hyper IgM is so rare, it's hardly ever heard of or on any major radar.
Please consider donating to this cause, every dollar helps. We are almost halfway there!!!Please like, share , and invite your friends!

August 5th: Our first son, Oliver, was born and daddy was there ( with the beard) to welcome him to the world. He was also the lucky one that got to change his first diaper!
We are doing this fundraiser for our boys, that were both born with Hyper IgM. The fundraiser One Shave to Save is specifically for raising funds for the Hyper IgM Foundation to help find a cure, and support those families that are facing Hyper IgM and all the struggles that come with it
Please like, share, and invite your friends to the fundraiser, and lets reach the goal so we can watch this beard get shaved!!!!
August 4th: We had started our business and had just upgraded to a new truck!!! It was a huge stress reliever right before our first baby boy was born……and the Beard was there.
Please like, share and invite all your friends.
This One Shave to Save is going to directly benefit the Hyper IgM Foundation! Please help us reach the goal so we can watch this crazy shave off!!