The Hyper IgM Foundation Blog
MARCH 2016 NEWSLETTER AND UPDATES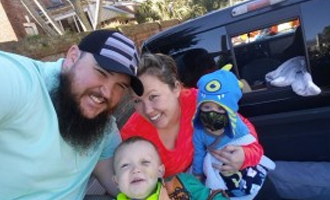 A Short Update from our President:
On January 29th, I had the honor to represent the Hyper IgM patient community at the U.S. Immunodeficiency Network (USIDNET)'s Annual Meeting. After speaking about my own personal experience as a parent of a child with Hyper IgM Syndrome, I then presented the work the Hyper IgM Foundation is doing on behalf of the families we serve to the immunologists and industry leaders attending the conference. We were thrilled to discover that there is so much interest in the Hyper IgM patient community. We started discussions with several of the experts at the meeting to find ways that our foundation can work with them on studies into Hyper IgM.
On the same note, the main sponsor of the event was the Immune Deficiency Foundation (IDF). We are collaborating with the IDF on a few fronts, and most recently launched a working group to build a quality of life study for Hyper IgM patients to be done later this year and published jointly. We are also working on getting more of our patients registered into the USIDNET to drive more research activities.
We have also launched our care package program for newly diagnosed patients and patients going through transplant. Find out more in our patient story, below. ​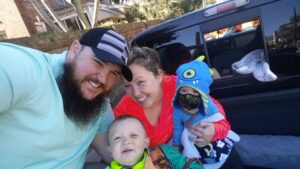 Patient Highlight:
The Hill Family Meet Liam. He is almost 1 year old and, like his older brother Oliver, Liam was born with X-linked Hyper IgM Syndrome. Liam underwent a hematopoietic stem cell transplant on January 22nd and is doing very well. He has engrafted and, after 20 days in the New Orleans Children's Hospital, he has been released to the outpatient clinic. Tiffany and Joshua Hill, Liam's parents, have already been down this road before with their 2.5 year old son Oliver's transplant last year. Oliver is cured and is doing very well, even enjoying taking soccer classes with other kids. We are all rooting for Liam to follow in his brother's footsteps and hoping for a complete cure. Here is what Liam's mom, Tiffany, had to say about her experience connecting to others through the Hyper IgM Foundation: — Read more —
We sent a care package to Liam and his family to help lift their spirits while they were in-patient. As a parent who has been through it before, I know what a difference a few surprise activities and treats can make on those long days (and nights) in the hospital. To help sponsor a care package click here.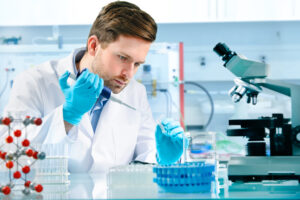 New Research:
Some exciting research news coming out of Seattle this week with the publishing of a paper in the Blood Journal by the Center for Immunity and Immunotherapies, Seattle Children's Research Institute. The article is called ​Targeted gene editing restores regulated CD40L expression and function in X-HIGM T cells. This is a very early stage gene editing technique that has shown promise for a potential therapy for X-Linked Hyper IgM Syndrome (known as CD40L Deficiency). — Read more —
Foundation Updates:
We would like to welcome Dr. David Hagin to our Board of Directors. Dr. Hagin is a Senior Allergy and Immunology Fellow at the University of Washington and Seattle Children's Hospital (SCH). His clinical interests include diagnosis and management of patients with primary immunodeficiency diseases (PIDD) and Immune Dysregulation. His research relates to identifying basic cellular mechanisms that underlie immunodeficiency and autoimmunity. Dr. Hagin earned his medical degree from The Hebrew University Hadassah Medical School in Jerusalem, Israel, completed residency in Internal Medicine at Tel-Aviv Sourasky Medical Center, and received a PhD in immunology from the Weizmann Institute of Science.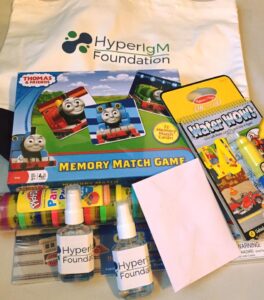 Support the Foundation in many ways:
Donate online to make a difference and support our missions: Donate Here
Another Hyper IgM Foundation Care Package on its way to a little super hero with Hyper IgM Syndrome. To help support the Foundation check out www.hyperigm.org to sponsor a care Package by donating $50
Amazon Smile: Did you know that you can support The Hyper IgM Foundation while you shop? Shop on AmazonSmile, select The Hyper IgM Foundation as your charity of choice, and a portion of your purchase will be donated by Amazon to the Foundation.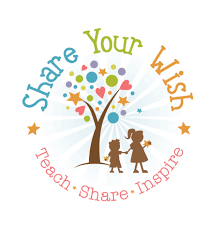 Share Your Wish:
Planning a birthday party? Share Your Wish Teach your child the spirit of giving! In lieu of traditional gifts for birthdays and parties, children are encouraged to raise funds for the Hyper IgM Foundation. Share Your Wish helps you to plan events with the giving spirit in mind. Please visit Share Your Wish for more information!